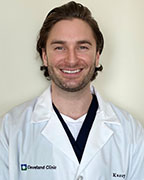 Biography
Kasey Donaghue is a Registered Practical Nurse at Cleveland Clinic Canada. He is passionate about health promotion and preventive care, and has a particular interest in surgical care with specialised training in thoracic surgery.
Mr. Donaghue obtained his certification as Registered Practical Nurse through St. Lawrence College in Brockville Ontario. He went on to complete his Certificate in Perioperative Nursing at Humber College before obtaining his RPN Bridge to BScN Certificate (with honours) from George Brown College. Mr. Donaghue is currently completing his training as a Registered Nurse at Trent University.
Mr. Donaghue enjoys learning about each patient's unique story and helping them formulate a personalized plan to live their healthiest lives. He has many years of experience in the field of nursing, providing care in areas such as hospitals, retirement residences, crisis care and the health and safety sector. He previously acted as a scrub nurse, specializing in thoracic surgery, lung transplants, difficult airways and cardiopulmonary bypasses as well as a registered practical nurse in an emergency room setting. He previously held the role of health and safety advisor where he oversaw occupational health and safety compliance.
When he's not treating patients, Mr. Donaghue enjoys playing and watching hockey. He also loves to snowboard, wakeboard, play tennis and spend time in the great outdoors.
Education/Training
Bachelor of Science (In progress)

Trent University
Nursing
Peterborough, ON

Certificate

George Brown University
RPN Bridge to BScN (with honours)
Toronto, ON
Certificate

Humber College
Perioperative Nursing
Toronto, ON

Diploma

St. Lawrence College
Registered Practical Nursing
Brockville, ON
Certifications
Basic Cardiac Life Support (BCLS)
Specialty Interests
Preventive health
Surgical care
Health promotion
Thoracic surgery
Professional Memberships
College of Nurses of Ontario
Registered Nurses Association of Ontario