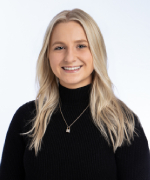 Biography
Katherine Dobrei is an Exercise Physiologist at Cleveland Clinic Canada. Ms. Dobrei is dedicated to curating short-term and long-term workout plans and lifestyle modifications for her patients to help them reach their goals. She has a strong interest in strength and conditioning, exercise for mental health, women's health, eating disorders and lifestyle management.
Ms. Dobrei first obtained her Bachelor of Arts with Specialization in Kinesiology from the University of Western Ontario. She went on to complete her Master of Fitness Science from York University. During this time she gained experience administering and interpreting ECG's, administering and interpreting VO2 max testing, hearing and vision testing, resting and exercise blood pressure, and job-specific fitness testing for firefighters, hydro workers, and various types of athletes.
Ms. Dobrei also acts as a teaching assistant for undergraduate courses under the faculties of Kinesiology & Health Sciences and Natural Sciences at York University. In this role, she hosts and lectures weekly lab sessions for first year students, facilitates learning, and grades academic work for professors. She has pursued further certification as a Personal Trainer through the Health and Fitness Federation of Canada (HFFC) and hold a Graduate Certificate in Personal Wellness & Learning Skills from York University.
Actively involved in her community, Ms. Dobrei has been involved with delivering both in-person and virtual fitness classes for diverse demographics including at-risk and homeless youth (Bootcamps for Change) and individuals with mental health struggles (Stella's Place). Previously, she volunteered at the Motionball Marathon of Sport events for The Special Olympics Canada Foundation, the Winter Special Games at Western University and the Kinesiology Games at Western University.
When she's not treating patients, Ms. Dobrei enjoys reading, hiking, exploring, and doing anything that involves being active and spending time outside.
Education/Training
Master of Fitness Science (Candidate)

York University
North York, ON

Bachelor of Arts (Honours)

University of Western Ontario
Kinesiology
London, ON
Certifications
Certified Exercise Physiologist- HFFC
Certified Personal Trainer- HFFC
Graduate Certificate in Personal Wellness & Learning Skills- York University
CPR/First Aid Level C- Red Cross
Certified Personal Trainer- Poliquin International
Specialty Interests
Strength and conditioning
Exercise for mental health
Eating disorders and lifestyle management
Women's health
Professional Memberships
Health and Fitness Federation of Canada (HFFC)