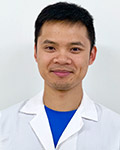 Biography
Tuan Chau is a Registered Massage Therapist at Cleveland Clinic Canada.
Mr. Chau was first exposed to the world of massage therapy after he sought treatment for an injury. He realized the powerful impact that manual therapy can have on a patient's life and decided to pursue it as a career. He completed his training as a Registered Massage Therapist at the Sutherland Chan School and Teaching Clinic. Mr. Chau has since completed certifications in adaptive manual therapy, fascial stretch therapy, neuro-functional assessments and contemporary medical acupuncture. He has a particular interest in athletics and performance.
Mr. Chau commonly treats patients suffering from postural related issues from office work as well as sports and athletic injuries. He has previously treated professional athletes in football, hockey and figure skating. He is passionate about helping his patients overcome athletic injuries and maximize their performance potential.
When he is not seeing patients, Mr. Chau stays active with dancing, rock climbing and hiking. He enjoys spending time with his partner Beth and their beloved pets and he speaks fluent Vietnamese.
Education/Training
Diploma of Massage Therapy

Sutherland-Chan School and Teaching Clinic
Toronto, ON

Certifications

Adaptive Manual Therapy
Fascial Stretch Therapy
Foundations in Neuro-Functional Assessment
McMaster Contemporary Medical Acupuncture
Specialty Interests
Athletics and performance
Professional Memberships
College of Massage Therapists of Ontario