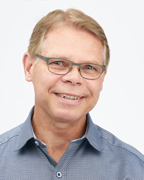 Biography
Peter Charbonneau is a Certified Pedorthist at Cleveland Clinic Canada.
A pedorthist is an orthopaedic footwear and foot orthotic expert. They are one of the few healthcare professionals trained in the biomechanical assessment of lower limb anatomy and muscle and joint function. With specialized education and training in foot orthotics and footwear, Canadian Certified Pedorthists help to alleviate pain, abnormalities and debilitating conditions of the lower limbs and feet.
Mr. Charbonneau holds a Bachelor of Physical Education Degree and a Diploma in Athletic Therapy and Management. Since completing his formal education, Mr. Charbonneau has spent over 20 years in both clinical assessment and manufacturing/design of orthotic devices. Work in the podiatry profession also lead to published material in the book titled The Foot Doctor . Through The College of Pedorthics of Canada, Peter has also been awarded the designation of Certified Pedorthist (Canada).
When he's not treating patients Mr. Charbonneau enjoys playing golf, skiing, running, cycling, weight training, travelling and reading.
Education/Training
Diploma

Athletic Therapy and Management

Sheridan College

Oakville, ON
Bachelor of Science

Physical Education

Brock University

St. Catharines, ON
Diploma

Pedorthics

Canadian College of Pedorthics

Winnipeg, MB
Specialty Interests
Foot care; Biomechanics
Sports medicine
Professional Memberships
College of Pedorthics of Canada
Pedorthic Association of Canada