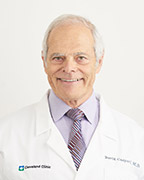 Biography
David Caspari, MD, is an Internal Medicine specialist and Executive Health Physician at Cleveland Clinic Canada. He is a firm believer in the power of prevention and has spent his career advocating on behalf of his patients.
Born in the U.K. and raised in Toronto, Dr. Caspari completed a degree in Industrial Engineering at the University of Toronto. That was followed by a Doctor of Medicine at the University of Toronto. Dr. Caspari completed an internship in Internal Medicine at St. Michael's Hospital before immigrating to the United States where he worked for Kaiser Permanente and Stanford University School of Medicine before finishing his training in Internal Medicine through the Columbia Presbyterian Hospital residency training program.
In 1982, Dr. Caspari returned to Canada to join the Department of Emergency Medicine at Toronto General Hospital and was appointed Assistant Professor of Medicine at the University of Toronto. In 1992, Dr. Caspari received an Executive MBA from the Rotman School of Business at the University of Toronto. Following the MBA, Dr. Caspari joined Searle Canada as VP Scientific Affairs. Searle was the pharmaceutical division of Monsanto.
Dr. Caspari was founder of Chondrogene Inc, later known as GeneNews, a genomics company focused on discovering the genomic pathways that lead to osteoarthritis. He also worked with Dr. Robert Francis at Medcan to pioneer concierge medical care in Canada.
When he's not seeing patients, Dr. Caspari enjoys motorcycle touring in exciting destinations such as Norway, Morocco and South Africa. He is also an avid dancer (ballroom, tango, waltz, cha-cha, foxtrot) and enjoys tending to his hobby farm.
Education/Training
Masters

University of Toronto
Business Administration
Toronto, ON

Residency

Columbia Presbyterian Hospital Residency Training Program - New York City
St Michael's Hospital - Toronto

Doctor of Medicine

University of Toronto
Toronto, ON

Bachelor of Applied Science and Engineering

University of Toronto
Toronto, ON
Certifications/Training
Fellow of the American College of Medicine
Fellow of the Royal College of Physicians of Canada
American Board of Internal Medicine
American Board of Emergency Medicine
Licentiate, Medical Council of Canada
Professional Engineer (P. Eng.)
Specialty Interests
Preventive medicine
Complex medical patient management
Genomics
Professional Memberships
Canadian Medical Association (CMA)
Ontario Medical association (OMA)
American College of Physicians
Royal College of Physicians of Canada
Association of Professional Engineers of Ontario
Awards and Honours
Dr. Robert Francis Prize for Clinical Excellence
John Stephenson Award for Volunteer Achievement, Upper Canada College (for developing the UCC Alumni Mentorship Program)