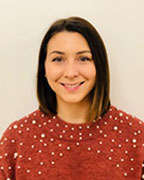 Biography
Alis Bonsignore is an Exercise Physiologist at Cleveland Clinic Canada. She is dedicated to the prevention of disease, chronic disease management and prehabilitation.
Ms. Bonsignore obtained her Bachelor of Science in Kinesiology from the University of Guelph-Humber. While there, she discovered cardiac rehab during a placement and was inspired by the way that exercise and nutrition could alter the state of a disease on a physiological level and help individuals with chronic condition achieve better health outcomes. She dedicated her thesis to the topic of heart failure in breast cancer and the role of rehabilitation exercise. She went on to complete her Master of Science at the University of British Columbia in Cardiovascular Physiology and Oncology. A lifelong learner, she is currently pursuing her PhD from the University of Toronto. Her PhD work specializes in the management of cardiovascular health in breast cancer survivors through exercise and lifestyle management and to modify risk factors that are shared between both cancer and cardiovascular disease. This is an emerging field of "cardio-oncology."
Ms. Bonsignore currently acts as a Research Analyst at the Toronto Rehabilitation Institute, where she works in specialized exercise programs for patients with heart failure and with a history of breast cancer. Ms. Bonsignore also dedicates her time to her role as a Doctoral Student at the Health and Performance Laboratory at the University of Toronto. Her research has been published in numerous journals and publications, including The Journal of Physiology and she has presented her research findings at conferences across North America.
When she is not treating patients, Ms. Bonsignore enjoys walking her dog, long distance running, Pilates, snowboarding and travelling.
Education/Training
PhD (Candidate)

University of Toronto
Department of Exercise Sciences
Toronto, ON

Certificate

University of Toronto
Collaborative Cardiovascular Sciences Program
Toronto, ON

Master of Science

University of British Columbia

Medicine
Vancouver, BC

Bachelor of Science (Honours)

University of Guelph-Humber

Kinesiology
Toronto, ON

Diploma

Niagara College
Fitness and Health Promotions
Niagara, ON
Certifications
Registered Kinesiologist
CPR and First Aid
STOTT Pilates
Specialty Interests
Primary prevention of cardiovascular disease
Cancer rehabilitation
Chronic disease management
Professional Memberships