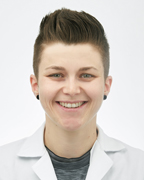 Biography
Cagla Baktiroglu is a Registered Massage Therapist at Cleveland Clinic Canada.
After receiving her first massage, Ms. Baktiroglu realized the life-changing ability of massage and knew that this field was her true calling. She completed a degree in Kinesiology from the University of Windsor before going on to graduate with honours from The Canadian College of Massage and Hydrotherapy.
Ms. Baktiroglu truly enjoys connecting with her patients and is dedicated to helping them achieve their goals. She is a strong believer in listening to the body and knowing when to rest. Ms. Baktiroglu is certified in Instrument Assisted Soft Tissue Mobilization and is particularly interested in sports massage,
pre and post-op for shoulders and knees and postural education.
Ms. Baktiroglu has devoted her life to sport and movement. She has played hockey at a high level for over 15 years. She was a member of her varsity hockey team and is currently representing her country on the international ice hockey stage, participating in IIHF world championships annually.
When she's not treating patients, you can find her on the hockey rink either coaching or playing.
Education/Training
Diploma

Massage Therapy

Canadian College of Massage & Hydrotherapy

Toronto, ON
Bachelor of Science

Kinesiology

University of Windsor

Windsor, ON
Certification
Instrument Assisted Soft Tissue Mobilization - HawkGrips Level 1 Practitioner
Specialty Interests
Sports massage
Pre- and post-op for shoulders and knees
Postural education
Professional Memberships
College of Massage Therapists of Ontario