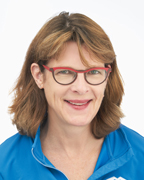 Biography
Shelagh Baker is a physiotherapist at Cleveland Clinic Canada. Ms. Baker has worked in private practice in both Canada and Australia and takes an exercised based approach to her treatments. She is dedicated to helping her patients restore their functional core stability to manage their symptoms, prevent further recurrences and expedite their return to function, fitness and sport.
Ms. Baker obtained a Bachelor of Science in Physiotherapy from the University of Alberta and completed a Graduate Diploma in Manipulative Physiotherapy from the University of Sydney in Australia. She is a Fletcher Pilates® Professional Teacher, has Levels 1 - 4 FitForeGolf and has completed the Melioguide levels I and II (Working with Osteopenia and Osteoporosis).
Ms. Baker runs the Exercise Rehabilitation Program (ERP) at Midtown, which is a physiotherapist-led exercise program that reinforces safe movement patterns and postures to get patients back to active lifestyles as quickly as possible. She treats low and mid back and neck pain, chronic and more acute as well as other musculoskeletal dysfunctions that are driven by non-optimal movement strategies. She enjoys working with her patients to educate them on their injuries, provide self-management tools and develop recovery plans that work for them.
When she's not treating patients, Ms. Baker stays active by long-distance rowing. She has completed numerous half marathons and recently completed her second full marathon. She also loves to spend time with her family and escape the city.
Education/Training
Graduate Diploma

University of Sydney
Manipulative Physiotherapy
Sydney, Australia
Bachelor of Science

University of Alberta
Physiotherapy
Edmonton, AB
Certifications
Fletcher Pilates® Professional Teacher
PMA® -CPT
Levels 1 - 4 FitForeGolf
Melioguide I & II– Working with Osteopenia and Osteoporosis
Bellies Inc
Specialty Interests
Education to promote self-management
Exercise based treatments
Acute and chronic low and mid back and neck pain
Long term movement dysfunctions
Nordic/urban walking/poling
Osteopenia and Osteoporosis
Professional Memberships
Canadian Physiotherapy Association (Special Interest Groups-Orthopaedic, Women's Health and Sports)
Australian Physiotherapy Association (Special Interest Groups - Sports Physiotherapy Australia and Women's Men's and Pelvic Health)
Titled member of Musculoskeletal Physiotherapy Australia