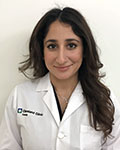 Biography
Rimsha Arif is a Registered Nurse in our Concierge Medicine Program. Ms. Arif has nearly a decade of experience in healthcare, and holds certification in a wide variety of clinical areas, including nursing, psychology, mental health and addictions.
Ms. Arif first completed a certificate in Pre-Health Science from Seneca College, before going on to complete her Diploma as a Registered Practical Nurse at Seneca College. She pursued further schooling in psychology, completing her Certificate from Ryerson University, as well as a Certificate in Mental Health and Addictions. Ms. Arif is currently completing a Certificate in Borderline Personality Disorder Management, from Harvard University. She has also obtained additional certification in IV Therapy and Phlebotomy and a Skilled Trade Certificate in Suboxone Training.
A natural leader, Ms. Arif previously acted as a charge nurse, leading teams at a mental health and addictions facility. She has experience working in pre and post-operative eye care, long-term care and a hospital environment and is skilled in infection control procedures. She is passionate about education and is dedicated to providing her patients with the proper tools and guidance to overcome health challenges, practice self-care and lead a healthy and active lifestyle.
When she's not seeing patients, Ms. Arif enjoys spending time with friends and family, and taking time to sketch, paint or learn a new skill. She is multilingual, and speaks fluent English, Urdu and Hindi.
Education/Training
Certificate (In Progress)


Harvard University
Borderline Personality Disorder Management
Cambridge, MA

Certificate

Ryerson University
Mental Health and Addictions
Toronto, ON

Certificate

Ryerson University
Psychology
Toronto, ON
Diploma

Seneca College
Registered Practical Nurse
Toronto, ON

Certificate

Seneca College
Pre-Health Science
King City, ON
Certifications
AEC / DEP or Skilled Trade Certificate in Suboxone Training
Certificate in IV Therapy and Phlebotomy – York University
Specialty Interests
Mental health
Addictions
Psychology
Professional Memberships
College of Nurses of Ontario
Registered Practical Nurses Association of Ontario