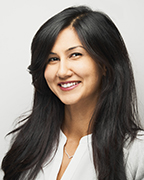 Biography
Dr. Ahmad is a licensed clinical psychologist at Cleveland Clinic Canada. Dr. Ahmad has several years of experience providing assessments and therapy for individuals and couples for issues ranging from mild adjustment difficulties to severe mental health disorders. In her practice, she commonly treats work stress, relationship conflict, trauma, depression, anxiety, eating disorders, bipolar, psychosis and personality disorders.
Dr. Ahmad has always had a fascination with human behaviour and a strong desire to help people struggling with emotional and behavioural problems. She turned this passion into a career and obtained her Bachelor of Science with a major in Psychology from York University. She went on to complete both her masters in Clinical Psychology and her PhD in Clinical Psychology from York University. Subsequently, Dr. Ahmad trained and worked in a range of private and public institutions that include North York General Hospital, Sunnybrook Health Sciences Centre, Centre for Addiction and Mental Health, York University Psychology Clinic (YUPC) and Mental Health and SUNY Upstate Medical University in Syracuse, New York.
Always eager to learn more, Dr. Ahmad is a dedicated researcher. Her work has been published in many well-respected, peer-reviewed journals, including the Journal of Marital and Family Therapy and the Journal of Behavioural Medicine. She is an editorial board member of the Journal of Marital and Family Therapy. She also shares her knowledge at conferences across the globe and has presented at the annual conventions for the American Psychological Association (APA), Society for Psychotherapy Research (SPR), and Society for Exploration of Psychotherapy Integration (SEPI). Dr. Ahmad is actively engaged in teaching and training. She provides consultation and supervision to other mental health clinicians and has lectured at University of Guelph-Humber and York University.
When she's not seeing patients, Dr. Ahmad enjoys travelling, hiking, tennis, cooking, spending time with friends and family and discovering new places in Toronto.
Education/Training
PhD

York University
Clinical Psychology
North York, ON

Masters

York University
Clinical Psychology
North York, ON

Bachelor of Science (Honours)

York University
Psychology Major, Biology Minor
North York, ON
Certifications/Training
Emotion-Focused Therapy (EFT)
Emotion-Focused Couple Therapy (EFT)
Dialectical Behaviour Therapy (DBT)
Cognitive Behaviour Therapy (CBT)
Motivational Interviewing (MI)
Specialty Interests
Adjustment Problems
Relationship distress
Anxiety Disorders
Mood Disorders
Psychotic Disorders
Trauma Disorders
Personality disorders
Professional Memberships
Ontario Psychological Association (OPA)
College of Psychologists of Ontario (CPO)
Awards and Honours
Canada Graduate Scholarship, Social Sciences and Humanities Research Council
Ontario Graduate Scholarship
Member of Dean's Honour Roll, York University
Masters Award for Academic Excellence, Stong College, York University
Stong Residence Honour Roll, York University
Kevin G. Jones Award for Outstanding Academic Achievement, York University