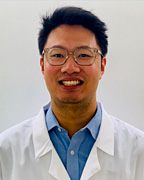 Biography
Hanmu Yan, MD, is a Urologist at Cleveland Clinic Canada. Dr. Yan commonly treats urological conditions such as BPH, kidney stones, erectile dysfunction, recurrent UTIs, hematuria, incontinence, and urologic cancers.
Dr. Yan completed his Doctor of Medicine at the University of Toronto. A strong interest in urology led him to undertake a residency at the University of Toronto Teaching Hospitals. He went on to complete a Fellowship in Advanced Laparoscopy and Endourology at St. Joseph's Health Centre and the University of Toronto. Dr. Yan has also completed specialty fellowship training in kidney stone surgery and minimally invasive urologic surgery, as well additional training in robotics, men's health issues and chronic pelvic pain.
When he's not seeing patients, Dr. Yan enjoys spending time with his family and his two young children.
Education/Training
Fellowship

St. Joseph's Health Centre, University of Toronto
Advanced Laparoscopy and Endourology
Toronto, ON
Residency

University of Toronto Teaching Hospitals
Urology
Toronto, ON
Doctor of Medicine

University of Toronto
Toronto, ON
Bachelor of Health Sciences

University of Guelph
Biomedical Sciences
Guelph, ON
Certifications
Fellow of The Royal College of Physicians and Surgeons of Canada
Specialty Interests
Kidney stone surgery: ureteroscopy, PCNL
Urologic cancers: testes, prostate, bladder, kidney
Minimally invasive urologic surgery
Men's health issues: ED, BPH, groin pain
Awards & Honours
D. R. Wilson Award – Outstanding Resident Teacher in the Department of Surgery, University of Toronto
Professional Memberships
Canadian Urological Association