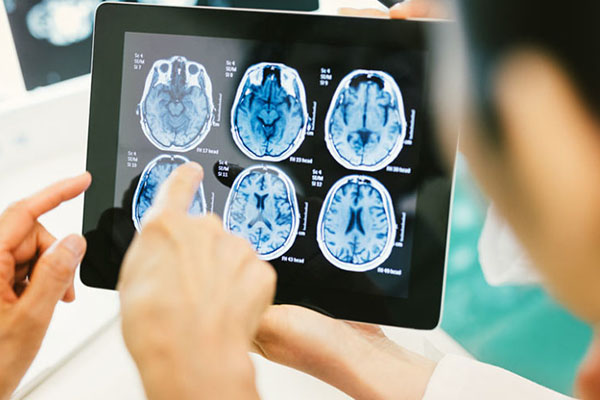 Cleveland Clinic Canada's Midtown location offers a complete and thorough concussion assessment and rehabilitation program for sports-related concussions. This program follows a concussion protocol incorporating evidence-based assessment and treatment techniques.
Sports-related concussion patients will be assessed by a sports medicine doctor and a physiotherapist with specialization in concussion rehabilitation. Subjective and objective examination will include:
Evaluation of concussion symptoms.
Evaluation of cognitive symptoms.
Neurological screening.
Cervical (neck) musculoskeletal assessment.
Balance assessment.
Vestibular testing.
Visual testing/oculomotor.
Cardiovascular assessment.
After the assessment, the medical team will determine the best management for each patient. The goal is to use evidence-based therapeutic interventions to improve symptoms from sport-related concussion and promote recovery.
The rehabilitation for sports-related concussion will address the symptoms and systems affected by the concussion. Treatment may include:
Pain and symptom management.
Manual therapy of the spine and associated tissues.
Visual/oculomotor therapy.
Balance and reaction time training.
Neck and core strengthening.
Total body conditioning.
Return to school/work education and guidelines.
Return to activity/sport education and guidelines.
Patients typically participate in the rehabilitation program 1-2 times a week under the supervision of their physiotherapist. Patients will also follow-up with their sports medicine physician on a regular-basis.
Most sport-related concussion patients will have signs and symptoms of concussion resolve within weeks of injury. Patients with post-concussion symptoms (symptoms that are not resolving in the anticipated time frames) may be referred to specialists in the areas of pediatrics, optometry, cognitive behavioural therapy, psychology, neuro-ophthalmology and vestibular therapy for further evaluation.
Are you covered?
Sports medicine physician consultations are covered by OHIP. Physiotherapy services are not covered by OHIP, though may be partially or fully covered by extended health insurance plans. The coverage for each carrier is different; please check your plan to see what coverage is available for this type of service.