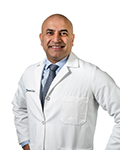 Biography
Vipan Nikore, MD, is an Internal Medicine Physician at Cleveland Clinic Canada and at Cleveland Clinic Main Campus in Cleveland. He is the Medicine Service Medical Director at Trillium Health Partners Credit Valley Hospital as well as a lecturer at the University of Toronto Faculty of Medicine and visiting research scientist in health informatics at MIT in Boston.
At the University of Toronto he teaches clinical medicine to medical students on the hospital wards and lectures on Healthcare Leadership and Emotional Intelligence. In addition to his medical director role at Credit Valley he serves as a Quality and Patient Safety lead and Physician Health IT lead. He is a guest writer on healthcare at KevinMD, is on the advisory board for the Center for Social Innovation's Agents of Change program, and a mentor at the digital health incubator Blueprint Health in New York City. At MIT he was previously co-course director for the Sana Global Health Informatics course and co-authored one of the first comprehensive Global Health Technology books, publishing in Spring 2017. He has given talks on Healthcare Technology in various cities around the world.
He is a former software developer at IBM, and also led projects at Sun Microsystems, Citibank, UCLA, WHO in Geneva, UNICEF in India, the Ontario Ministry of Health, and Lux Capital in NYC. He has led and founded various other organizations and groups most notably he founded the non-profit organization Urban Future Leaders of the World (uFLOW), which empowers underserved inner city youth to start their own community service projects. He recruited hundreds of volunteers and youth and expanded uFLOW to Chicago, Cleveland, New York City, and San Francisco.
Dr. Nikore completed his internal medicine residency training from Cleveland Clinic's main campus, MD degree at the University of Illinois-Chicago (UIC), MBA at the Yale School of Management, and his BSc in computer science and software engineering at the University of Western Ontario. At Yale he led the student body as the President of the Yale Graduate and Professional Student Senate. As a resident he was selected as the sole recipient among all Cleveland Clinic residents for the Michener Leadership Award for leadership and dedication to community service and humanity, and as a medical student was awarded the Eugertha Bates Award among all UIC graduate and professional students for outstanding level of caring and selfless commitment to the humanitarian needs of others.
In his free time he enjoys sports, travelling, writing, technology, entrepreneurship, philosophy, mentoring youth, discovering new restaurants, and more recently attempting to learn the guitar and other new activities. He remains very active by working out and participating in hockey, baseball, basketball, football, rugby, hot yoga, skiing, and martial arts.
Education/Training
Residency

Cleveland Clinic
Internal Medicine
Cleveland, Ohio

Doctor of Medicine

University of Illinois at Chicago
Chicago, IL

Masters in Business Administration

Yale University
New Haven, CT

Bachelors of Science, Computer Science

University of Western Ontario
London, ON
Certifications
American Board of Internal Medicine
Advanced Cardiovascular Life Support Training
Specialty Interests
General Internal Medicine
Adolescent Medicine
Global Health
Geriatric Medicine
Preoperative Medicine
Healthcare Quality & Patient Safety
Health Information Technology
Awards & Honours
Cleveland Clinic William and Roxanna Michener Leadership Award
Cleveland Clinic Internal Medicine Senior Resident of the month
Multiple Cleveland Clinic Caregiver Awards
American Heart Association (AHA) Heartsaver Hero Award
University of Illinois Eugertha Bates Award
Gold Humanism Honor Society Award
Paul Ambrose Scholarship in Preventative Medicine
Society for Adolescent Medicine (SAM) National Travel Scholarship
University of Illinois College of Medicine Student Leadership Award
Awarded an Albert Schweitzer Healthcare Fellowship Award
Yale School of Management Bernstein Fellowship Award
University of Western Ontario Honor W Award
Dean's list recipient, University of Western Ontario
Special Initiative Award in Computer Science
Western Scholarship of Distinction
Professional Memberships
Ontario Medical Association
College of Physicians and Surgeons of Ontario
American College of Physicians
Society of Adolescent Health & Medicine