Overview
Overview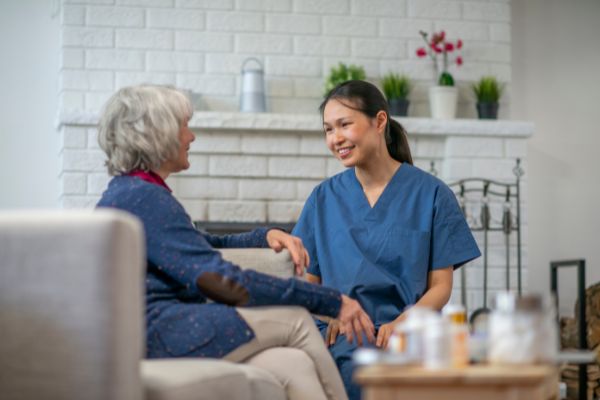 Do you need care at home? Do you travel often and want the peace of mind of knowing a loved one is taken care of while you're away? Does your busy schedule limit your ability to get the testing you need?
Introducing Home Health Solutions, our comfortable and convenient in-home healthcare service. Whether you require a one-time visit or ongoing care, this service is designed to meet your specific healthcare needs. With visit times ranging from 15 minutes to 24 hours per day, seven days per week, you can rest assured that you are receiving high-quality, compassionate, and convenient care.
Who would benefit from Home Health Solutions?
Individuals who require part-time or casual care (i.e., 2 hours per day for bathing and dressing).
Individuals who require full-time, around the clock care.
Individuals who reside within a retirement home who require supplemental care.
Post-surgical patients.
Busy executives or individuals who prefer care at home or at work (i.e., blood work, vaccinations, ultrasound, EKG, nursing assessments, etc.).
For ongoing care needs, a dedicated caregiver will provide an on-site assessment. They will also create and implement a customized care plan while liaising with doctors and pharmacists as needed. You or your loved one can remain in the comfort and safety of your home, with the peace of mind that your care needs are covered.
What kind of services are offered?
Services that our team provides include:
Lab work and diagnostics.
Vaccine administration.
House calls - urgent care assessments at home with prescriptions/referrals, if indicated.
Nursing visits to check in, administer medications, etc.
Short-term/long-term care at your home.
Supplemental care at retirement homes.
Why choose Cleveland Clinic Canada?
Individualized home care. We do not believe in a one-size fits all approach. Our caregivers work closely with patients and/or their families to ensure every aspect of the care provided suits their specific needs. We ensure exceptional individualized service by performing in-depth intake and assessments, resulting in improved health outcomes for our patients.
Responsive and efficient. We are a high-touch home care service. This means that our team is always available to assist you or your loved one in a timely manner. Rest assured that we do everything in our power to ensure that our patients receive the care they need, when they need it. Our standard is to match our patients with a skilled caregiver in 24 hours or less.
Quality care almost anywhere. We cater to patients whose condition or busy lifestyles make it challenging to travel to a clinic or hospital. We bring high-quality medical services and diagnostics to wherever patients prefer to receive their care.
Contact Us
For more information or get started, please contact:
Frequently Asked Questions
Frequently Asked Questions
What are the hours for this service?
Our team is available 24 hours, 7 days a week (including holidays) via email or phone.
What are the costs of this service? How do I pay?
Costs vary according to the level of care and duration of care required.
Credit cards and cheques are accepted.
Where is this service available?
Currently this service is available in the province of Ontario.
I have an order for blood work, can I have a caregiver come to my home?
Yes, our caregivers are happy to complete your blood work in the comfort of your home or office if you have a doctor's order/requisition.
I have an order for an EKG, can I have a caregiver come to my home?
Yes, our caregivers are happy to complete your EKG in the comfort of your home or office if you have a doctor's order/requisition.
Do you offer companionship services?
Our team of skilled caregivers are ready to provide exceptional companionship services on both a short and long-term basis.
Do you offer support for Alzheimer's and dementia for my loved one?
Yes we do. Our team of caregivers are highly experienced, trained and ready to provide clinical care and companionship for people living with Alzheimer's and dementia.
Is there a minimum number of hours I can request services?
No. Our service can be as short as a 15-minute appointment (i.e. vaccine administration, blood pressure reading).
What are my caregiver's qualifications?
Our team of skilled caregivers range from nurse practitioners, registered nurses, registered practical nurses and personal support workers. In addition to their designation, many of our caregivers hold certifications and specializations. During the initial nursing assessment, our Nurse Care Coordinator will determine what type of caregiver best suits your needs.
Will my caregiver help with medications?
Yes. If you or your loved one requires assistance with medication administration, our caregivers are happy to help.
Will I have access to my health records?
Yes, you will have access to your health record upon request.
Is this service covered by OHIP or my benefits?
Some services are covered by OHIP. Please contact our team for more information.
Please contact your benefits provider to inquire about coverage.
Who will be a part of my home care team?
The premium home care service includes a dedicated team of caregivers to support you. Your team will typically comprise of your primary caregiver and the Nursing Care Coordinator. During the intake process, you will be matched with an experienced caregiver who was selected specifically for your needs.
If I book an in-person consultation for short/long term care, do I have to purchase the services?
No, this consultation is at no cost to the patient.
Do I have to sign an agreement for short term/long term services?
Yes, an agreement for care will need to be signed by the patient or power of attorney. The agreement will outline the service, costs and frequency of the service.
How much notice is required to cancel my services?
We require a minimum of one week's notice for short/long term care. 24 hours' notice are required for appointment-based services.
Do you send caregivers to retirement homes and hospitals?
Yes, our team of caregivers can provide supplementary private duty care at retirement homes and hospitals.
What is the minimum age for a patient to receive care?
The minimum age is 2 years old.
What can I expect from a house call appointment?
A Nurse Practitioner will come to your home to complete an assessment. They will also provide a prescription (if indicated), refer you to specialists (if indicated), and order blood work, x-ray or ultrasound (if indicated).