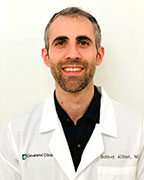 Biography
Jeff Alfonsi, MD, is an Internal Medicine Specialist at Cleveland Clinic Canada. He commonly diagnoses and treats issues such as hypertension, atrial fibrillation and drug interactions and has a specialized interest in personalized medicine.
Dr. Alfonsi obtained his Doctor of Medicine from the University of Toronto. He completed his residency in Internal Medicine and went on to complete a Fellowship in Clinical Pharmacology and Toxicology from the University of Western Ontario. While at the University of Toronto, Dr. Alfonsi acted as the resident representative for the Core Internal Medicine Residency Program Committee, helping to develop curriculum for internal medicine residents.
Dr. Alfonsi currently acts as an Assistant Professor at the University of Western Ontario's Schulich School of Medicine & Dentistry in the Department of Medicine, Clinical Pharmacology. He also holds the role of Adjunct Professor at the University of Toronto's Department of Medicine, Trillium Health Partners. He previously acted as a research engineer for the MRI department at The Hospital for Sick Children's Division of Biomedical Research.
An avid researcher, Dr. Alfons has had his work published in numerous peer reviewed medical journals and he has presented his findings across Canada and the US. He is currently involved with a clinical pharmacology project at Western University and is a member of the Western Research Ethics Review Board.
When he's not seeing patients, Dr. Alfonsi enjoys cross training, hacking technologies and spending time with his wife and son.
Education/Training
Fellowship

University of Western Ontario
Clinical Pharmacology and Toxicology
London, ON
Residency

University of Toronto
Internal Medicine
Toronto, ON
Doctor of Medicine

University of Toronto
Toronto, ON
Bachelor of Applied Science

University of Waterloo
Systems Design Engineering with Distinction
Biomechanics and International Studies
Waterloo, ON
Specialty Interests
Hypertension
Arial fibrillation
Drug interactions
Personalized medicine
Professional Memberships
College of Physicians and Surgeons of Ontario
Fellow- Royal College of Physicians and Surgeons of Canada, Internal Medicine
Fellow- Royal College of Physicians and Surgeons of Canada, Clinical Pharmacology and Toxicology