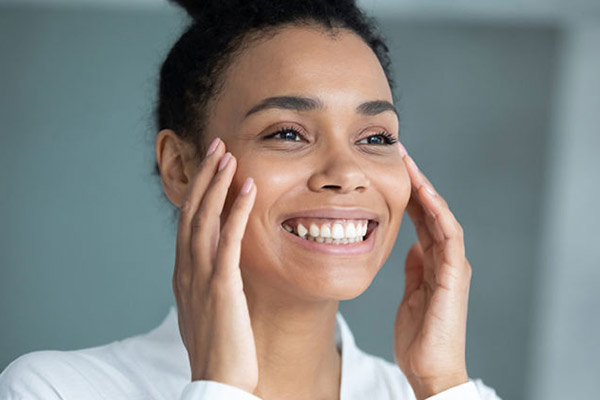 Want to feel and look your best? At Cleveland Clinic Canada, we believe in a personalized and holistic approach to anti-aging and rejuvenation. From preventive strategies to corrective treatments, our board-certified dermatologists offer a broad range of cosmetic solutions. Book a consultation and let our experts help you achieve your aesthetic goals.
Injectables
Non-invasive injectable treatments can help you address the signs of aging without the need for invasive surgical procedures.
Neuromodulators (Botox/Xeomin)
Neuromodulators are non-invasive injections that are used to soften or reduce lines and wrinkles by temporarily relaxing facial muscles. Common areas of treatment include horizontal forehead lines, frown lines, and crow's feet.
Neuromodulator treatment can provide a natural refreshed appearance and smooth away unwanted facial lines with virtually no downtime. It can also be used to lift the brows and slim the face.
Dermal Fillers (Belotero/Radiesse)
Dermal fillers are a non-surgical option ideal for restoring lost facial volume and softening deep facial lines. Also known as soft tissue augmentation, dermal fillers can plump and reshape thin lips, lift and enhance facial contours, reduce undereye bags, and improve the appearance of depressed scars.
Through skilled injection techniques, dermal fillers can create a youthful appearance and provide natural long-lasting results.
Platelet Rich Plasma
PRP (platelet rich plasma) is a non-surgical procedure which harnesses the body's own healing and regenerative processes. Initially used in orthopaedics to treat muscle and tendon injuries, PRP in aesthetic medicine can be used for facial rejuvenation as well as restore thinning hair. This is an in-office procedure that starts with a simple blood-draw, processing whole blood in a centrifuge to extract platelets which are rich in growth factors, and injecting the purified PRP into the skin or scalp.
Facial Rejuvenation
PRP is an ideal choice for facial rejuvenation in patients who are looking for a natural result with a natural product (your own platelets). PRP is injected intradermally into the skin, which leads to increased collagen production and improved skin elasticity. PRP can soften fine lines, volumize facial contours, improve skin texture and decrease hyperpigmentation. PRP can be combined with microneedling and applied topically following laser treatment.
Hair Restoration
When injected into the scalp, PRP stimulates the proliferation and differentiation of stem cells in hair follicles as well as increase blood supply to the follicles. Clinically, this translates to stronger and thicker hair. PRP is ideal for the treatment androgenetic alopecia (male and female pattern hair loss). Three to five consecutive treatments are recommended to optimize results.
Facial Resurfacing
These procedures can improve the texture of the facial skin, improve acne scars, decrease pores, and brighten the skin.
Microneedling
Microneedling is a safe, effective, and minimally invasive procedure that helps to improve skin texture, reduce the appearance of acne scars and rejuvenate the skin. By creating thousands of micro-punctures in the skin, microneedling stimulates the skin's natural healing process and induces collagen production. The result is smoother, firmer and younger looking skin. The ideal candidate for microneedling is anyone looking for a quick, painless, and effective way to improve the texture, tone, and overall skin complexion. At Cleveland Clinic Canada, we use SkinPen®, a device that is Health Canada approved and the first microneedling device to be approved by the FDA.
Chemical Peels
A chemical peel is a safe, simple, and effective treatment to restore your skin's healthy glow. Peels involve the topical application of a chemical solution to exfoliate the top layers of the skin in a controlled fashion. The depth and intensity of chemical peels can vary based on desired results. Chemical peels can help with a range of skin concerns, including acne, acne scarring, facial hyperpigmentation, skin dullness, and fine lines. Gentle peels require virtually no downtime and can be a great refresher for dull skin.
Skincare Products
A consistent and effective skin care regimen is essential to healthy glowing skin. We are proud to recommend skincare products that are backed by science and proven to demonstrate clinical results. Our experts are happy to help you create an individualized skincare plan. Browse and purchase skincare products on our e-store.
Why Choose Us
With countless options for aesthetic treatments, why choose us? Dermatologists are specialized physicians who treat more than 3000 conditions that affect the skin, hair, and nails. A Board-Certified Dermatologist has a minimum of 8 years of medical training, including dedicated training in aesthetic medicine. We are the experts to help optimize your skin health, create an individualized approach and achieve the best results from any cosmetic procedure. At Cleveland Clinic Canada, you will receive the highest quality care from a world-class organization.
Our Staff
Jane Wu, MD, FRCPC, DABD - Dermatologist
Are You Covered?
Cosmetic dermatology procedures are not covered by OHIP and do not require a physician referral. Please book a consultation to determine the best treatment for you.