Overview
Overview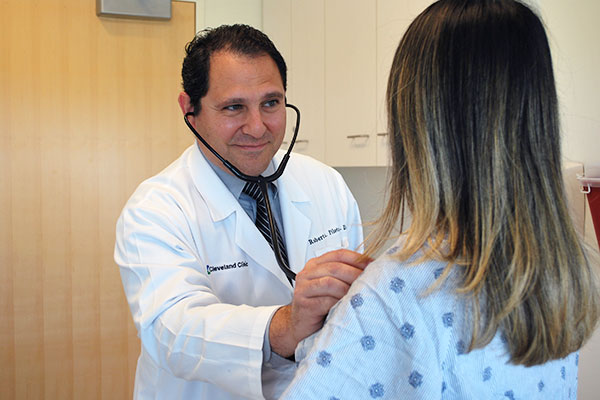 Busy lifestyles leave little time for the essential preventive medical care that can mean the difference between years of high personal productivity and the facing of a medical crisis. A healthy dose of medical attention before problems arise is important.
Cleveland Clinic Florida's approach to Executive Health encourages individuals to become proactive about their heath. This empowers busy executives to avoid illness and optimize wellness. We regard health as a personal responsibility and provide strategies of engagement, enabling you to take charge of your wellness.
Our goal is to help you develop an awareness of your health and to give you the state-of-the-art tools needed to make healthy changes. Well-known for offering world-class medical care and preventive health, Cleveland Clinic in Florida will provide you with a wide array of personalized options to enhance your health and well-being.
To schedule an appointment, call us locally at 954.659.5380 or toll-free 800.729.5258.
Healthcare Destination
Healthcare Destination
The Huizenga Executive Health Program at the Attarian-Huizenga Executive Health Suite is designed to help busy professionals (and their spouses) manage their health effectively, while ensuring continued productivity and vitality. Services are provided mindful that a minimum amount of time is important.
The program's mission is to target, reduce and remove health risks; promote wellness; discover potential health problems; and facilitate prompt, expert treatment of diseases. Participants receive a highly personalized annual medical evaluation by skilled Cleveland Clinic Florida physicians.
Evaluations are tailored to an individual's age, sex, family history, personal history, and other risk factors. A thorough medical history and physical examination with appropriate screening tests are designed to detect many serious medical conditions, including heart disease, high blood pressure, diabetes, cancer, stroke, and others, at an early stage when they are most easily treated.
Screenings are efficiently scheduled on the same day at one location, so you can obtain a year's worth of preventive healthcare in a single day – without leaving Cleveland Clinic Florida. There is no better place to fast-track your health. After the examination is completed, the patient receives a written report detailing all findings and recommendations for lifestyle changes and/or follow-up care.
Additional examinations by Cleveland Clinic Florida specialists will be arranged.
Access to Quality Care
Participants have access to the finest in medical care. Cleveland Clinic Florida physicians are leaders in their fields who practice in an environment that emphasizes research, innovation, and collaboration. They bring a high degree of personal expertise, backed by knowledge from colleagues representing a full range of medical and surgical specialties.
Cleveland Clinic is known as one of the newest, most innovative medical centers in Florida. It is built to accommodate the most demanding functional needs of physicians, while providing an exceptionally comfortable environment for patients.
Program Goals
Targeting, reducing and eliminating health risks
Promoting wellness
Discovering potential health problems
Facilitating prompt access when problems are identified
Annual Evaluation
Annual Evaluation
Executive Health evaluations are created for each individual. The following is a representation of the typical annual evaluation.
History and Physical
A detailed history and physical examination provides the basis for all other testing. As much time as needed will be taken to accomplish a thorough understanding of your past medical problems and your risk based on family, social and work history. You are encouraged to use this time to raise any health questions and concerns you might have.
Heart and Vascular Health
Chest x-ray
Electrocardiogram
Cardiac stress test (after 40)
Ultra-sensitive C-reactive protein*
Homocysteine level to screen for vascular disease*
ESR or CRP to screen for inflammatory or heart disease*
Cancer Screenings and Risk Assessment
Colonoscopy or flexible sigmoidoscopy (after age 50) for colon cancer
Prostate cancer screening including PSA test (men only)
Pap Smear for cervical cancer (women only)
Mammogram (women only)
Skin cancer screening
Blood Analysis
Complete blood count to detect anemia, leukemia and other blood disorders
Complete metabolic profile to detect liver or kidney disease, gout and diabetes
Full cholesterol panel
Thyroid hormone screening
Urinalysis to detect diabetes, kidney and bladder disorders
Iron and percentage saturation test to detect hemochromatosis, a common blood disorder
Hearing and Vision
Audiogram to assess hearing
Executive eye exam
Tonometry test to screen for glaucoma
General Health
Spirometry to assess lung function
Bone density testing (women only)
Pelvic exam (women only)
Abdominal ultrasound (men only, after 50) to screen for aortic aneurysms
Fitness
Body composition and nutritional counseling
Physical fitness evaluation
Optional Tests and Consultations
Total body CT scan to further evaluate internal organs
Cardiac calcium scoring to determine risk for coronary artery disease
Travel Clinic
Immunization update and discussion of health risks related to international travel
Immunizations for international travel
* Blood tests
Making an Appointment
Making an Appointment
To make your appointment and learn more about the Huizenga Executive Health Program at Cleveland Clinic in Florida or to schedule an executive physical, call 954.659.5380.
International
Please call 954.659.5080 or refer to the toll-free numbers listed below:
Bahamas, Canada, Cayman Islands, Continental U.S., Puerto Rico and the U.S. Virgin Islands Toll-free:
1.866.898.8210
Dominican Republic Toll-free:
1.888.156.2086
Venezuela Toll-free:
0800.1.00.4538
Cleveland Clinic in Florida's International Center provides translators for patients who speak Spanish and Portuguese.
Before the Appointment
Prior to an Executive Health appointment, individuals receive:
Itinerary
Questionnaire regarding personal and family health history
Instructions for fasting before certain tests as needed
Athletic attire requirements when necessary
Bring or wear comfortable clothing
Cleveland Clinic map and brochure
View your medical records and test results, manage prescription renewals and make appointments online through MyChart.
Contact Us
Contact Us
Please fill out this form and someone will contact you with more information about the Huizenga Executive Health Program. To schedule an appointment, call us locally at 954.659.5380 or toll-free 800.729.5258.