Overview
Overview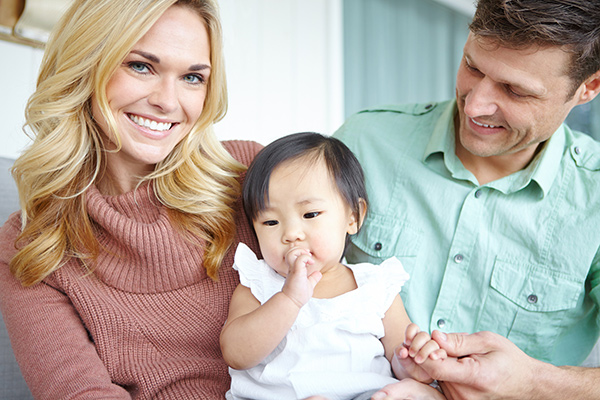 International Adoption
The Adoption Program at Cleveland Clinic Children's offers comprehensive pediatric care for children adopted here in the United States and abroad.
Our program, based in our Department of General Pediatrics, offers a wide range of specialized services, including:
Online pre-adoption and post-adoption consultations through Cleveland Clinic MyConsult®
Ongoing primary care
Multidisciplinary team evaluations of physical, developmental, behavioral and educational needs
Assistance with school-related academic and behavioral issues
Referrals to medical subspecialists when needed
Whether you live in Northeast Ohio or elsewhere, our team stands ready to help you with evaluations and consultations.
Ongoing Primary Care
Our team is available to provide ongoing primary care for your child, including:
Well-child and urgent care
Urgent calls to medical staff 24 hours a day, seven days a week
Most insurance companies cover post-adoption evaluation and primary care. Check with your insurer.
Multidisciplinary Team Evaluation
If needed, your child may be evaluated by a multidisciplinary adoption team. The team includes:
Behavioral medicine expert
Developmental pediatrician
Educational consultant
Neuropsychologist
Physical and occupational therapists
Speech pathologist
Our adoption team will provide ongoing evaluation of your child's development. We will be available as your child matures throughout school to ensure that any special learning needs are fully supported.
Referrals to Pediatric Medical Specialists
Cleveland Clinic's Children's offers care in all pediatric medical subspecialties. When adopted patients have major medical needs, our team refers children for additional assessments and care by specialists in Pediatric Infectious Disease, Pediatric Endocrinology, Pediatric Cardiology and other fields.
Benefits
Benefits
MyConsult Online Adoption Consultations
We believe that an online pre-adoption consultation is the best way to prepare parents for the unique challenges and joys of adoption. This is true for both domestic and international adoptions. In international adoptions, transitioning a child from orphanage or foster care in another country requires added sensitivity, insight and preparation. Once your child has arrived home, our post-adoption consultations are available to address any issues that may arise after adoption.
Our Full Pre-Adoption Consultations include:
Immediate review of your child's medical records, photos and videotapes
Interpretation of medical terminology
Assessing growth
Outlining developmental and behavioral expectations
A plan to address medical, developmental, feeding, sleeping and other issues beforehand, especially if travel is required
Phone consultation and support during the adoption process, even during trips abroad
Information about adoption resources
Our post-adoption consultations assist parents in addressing any issues that may arise after adoption such as difficulties related to sleep, behavior, learning or development. Our adoption specialist will review the child's medical history, records, and test results, and provide a comprehensive, personalized report, taking care to answer your individual questions. You will be able to review treatment options or alternatives, as well as recommendations regarding your child's future care needs. This option is available for adopted children of any age.
Adoption consultations begin with an online request to Cleveland Clinic MyConsult. MyConsult allows you to contact our team from the comfort and privacy of your home, and streamlines the evaluation of your child's health records, photos and videotapes.
Other MyConsult Adoption Services
Besides comprehensive adoption consultations, services available through Cleveland Clinic MyConsult include:
General adoption phone inquiries
Basic, one-time medical record reviews
For a list of Cleveland Clinic MyConsult adoption consultation services and fees, please e-mail myconsult@ccf.org, visit MyConsult Adoption, or call 216.444.3223 or 800.223.2273, ext. 43223.
Post-Adoption Evaluation Appointments
Our team will examine and evaluate your child within seven to 10 days of your arrival home We will conduct the screening recommended by the American Academy of Pediatrics, and provide all needed immunizations.
Post-adoption services include:
A thorough physical examination, and a history review (to the extent available)
Review of any new medical information
Review of immunization status
Assessment of infectious disease risks
Assessment of developmental status
Diagnostic tests or referrals to specialists, if needed
Staff
Staff
Adoption Consultant
Elaine Schulte, MD
Appointments