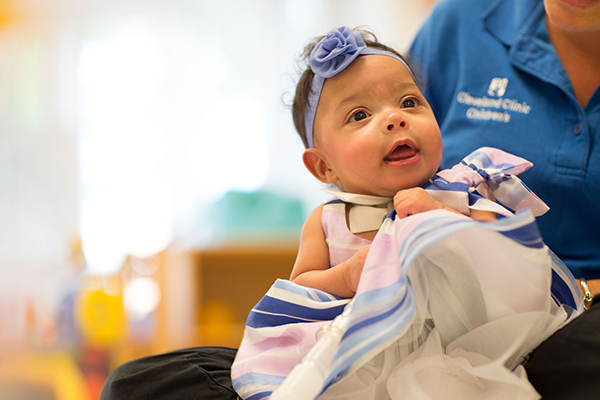 The Infant Feeding and Nutrition Clinic is an interdisciplinary, specialized outpatient clinic that addresses infants and children who have difficulty with bottle, breast, or spoon feedings. The infants in the clinic range from birth to 12-18 months old and are referred from home, the NICU following discharge, or your pediatrician. The interdisciplinary team consists of a Developmental Pediatrician, Registered Dietitian (RD), and an Occupational or Speech therapist (OT/SLP). Members of the team work closely with one another to address all aspects of the feeding and related medical concerns.
Common diagnoses which are addressed within the Infant Feeding and Nutrition Clinic are:
Prematurity.
Failure to thrive.
Gastro-esophageal reflux.
Genetic disorders.
Respiratory issues.
Cardiac diagnoses.
Developmental delay.
Areas of concern addressed within the Infant Feeding and Nutrition Clinic:
Follow up for infants discharged from the NICU with feeding concerns.
Dysphagia/swallowing concerns.
Bottle and/or breast difficulty.
Growth and nutritional issues.
Difficulty latching to breast or bottle.
Maintenance of feeding tube diet.
Management of advancing food textures.
Transitioning off bottle feeding to cup.
A comprehensive evaluation is completed during the initial visit with all team members present. Upon completion of the evaluation, recommendations are provided and follow treatment sessions are scheduled as needed to address concerns.
If you have a concern with your infant's feeding skills in any of the above or related areas, please speak with your pediatrician to request a referral to the Infant Feeding and Nutrition Clinic.
For more information, please call 216.448.6110
Location