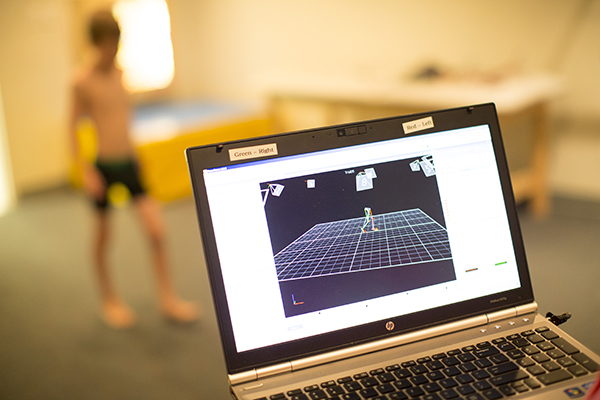 The Pediatric Gait Analysis Lab uses 3-D motion-capture technology and analytical software to provide information on how a child walks in order to determine appropriateness of orthotics or therapy modalities.
Children with complex gait abnormalities caused by neurologic conditions such as spina bifida and cerebral palsy may require orthotic or surgical interventions. Medical professionals need a detailed understanding of the impact of factors such as spasticity and body segment misalignment on a patient's walking ability to make optimal treatment decisions. The technology of the Pediatric Gait Analysis Lab can provide this information in a quick and reliable manner.
Physical therapists will evaluate each child's needs and consult with the caregivers to provide appropriate recommendations with the goals of maximizing each child's independence and participation in home, school and community based activities. This program is offered to school age children with identified difficulties with gait. The assessment is typically a one-time visit for approximately 2 hours.
Locations
For more information, please call 440.835.7400