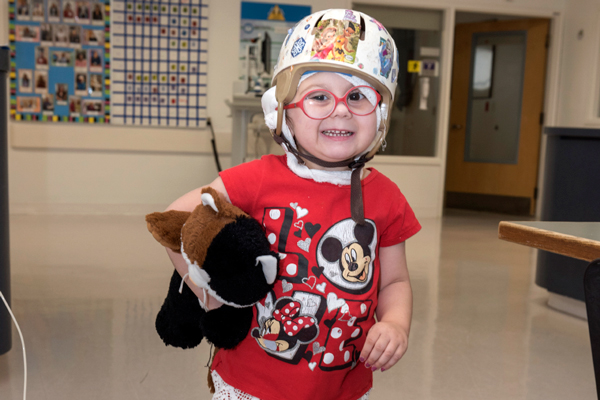 Children with moderate to severe brain injuries can have learning and behavioral difficulties throughout their lives. These children and their families require support and guidance to help achieve their full potential. While the brain injury does not change over time, the child's difficulties may become more apparent as they grow and fail to meet educational and independent milestones. Most children will also require special services or accommodations from their school in order to maximize their education and independence. Our multidisciplinary acquired brain injury clinic looks to address the challenges that children with moderate to severe brain injury can face and to offer support to their family while decreasing the need to travel to multiple appointments.
Multidisciplinary Care
Our physicians and clinicians recognize that the challenges children with moderate and severe brain
injuries have can change as the child grows and can lead to difficulty with behavior and learning. These patients require a specialized multidisciplinary clinic in which they can see several medical sub
specialists during one appointment and in one location, including specialists from:
Physical medicine and rehabilitation
Psychology
Speech therapy
Occupational therapy
Recreational therapy
Social Work
During the clinic session, the multidisciplinary team evaluates each child and makes treatment
recommendations.
Treatment Options
Treatment options may include:
Medications or other interventions to help their muscle tightness and movements
Medications or recommendations to help with attention and arousal
Evaluation for orthotics and other equipment
Evaluation of therapy services
Working with schools to ensure appropriate IEP or other accommodations are in place
Recommendations to improve engagement in community activities
Counseling to address behavior, emotional difficulties, and adjustment to their injury
Evaluation of cognition and sight
Social work consultation to maximize funding and community resources
For more information or to schedule an appointment, call Susan Conroy, clinical coordinator, at 216.448.6182.
Locations
Cleveland Clinic Children's Hospital for Rehabilitation
2801 Martin Luther King Jr. Dr.
Cleveland, Ohio 44104