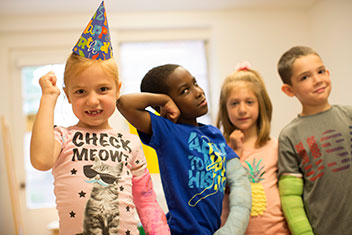 Constraint-induced movement therapy (CIMT), is an innovative, scientifically supported method of upper extremity rehabilitation for children with neuromotor impairments. CIMT is gaining increased support and emerging as a best practice in the treatment of children with hemiplegia. CIMT involves constraint of the non-affected upper extremity in combination with intensive therapy.
What is the CIMT program?
The CIMT program consists of three weeks of intensive outpatient occupational therapy services - five days per week, three hours per day - at Cleveland Clinic Children's Hospital for Rehabilitation. The child's non-affected upper extremity is placed in a cast, and he or she is expected to perform all self-care tasks and fine-motor tasks using the affected upper extremity during the program. A consistent family member/caregiver is expected to attend the program with the child.
What are the goals of CIMT?
CIMT has four goals:
To facilitate more spontaneous use of the affected upper extremity.
To improve quality of movement of the affected upper extremity.
To increase overall functional use of the affected upper extremity.
To improve quality of life skills.
Who may benefit from CIMT?
Three groups of pediatric patients may benefit from CIMT:
Children with a clinical presentation of upper extremity hemiplegia who can initiate and move that upper extremity.
Children who are able to follow directions and work in intensive therapy.
Children whose parents/caregivers are able to dedicate time to the program.
Locations
Contact Us
For more information or to refer a patient, please call 216.636.5437.
For individuals interested in participating in the Constraint Induced Movement Therapy (CIMT) program, referrals should be made to the Upper Extremity Clinic.