Overview
Overview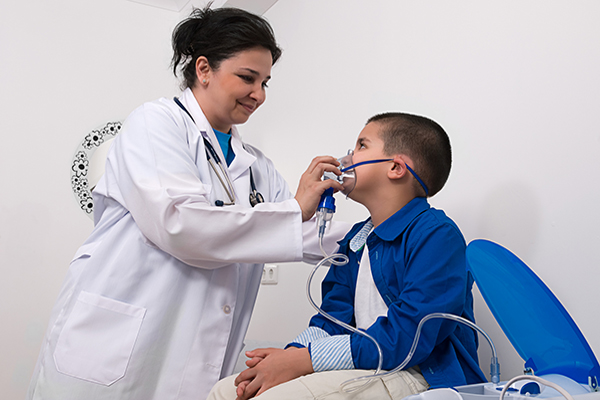 We offer a wide range of pediatric respiratory services, including administering treatments prescribed by Cleveland Clinic Children's specialists for sudden respiratory illnesses or in the emergency care of children in shock or in need of life support.
We see pediatric patients at Cleveland Clinic Main Campus in the Pediatric Intensive Care Unit (PICU), the Neonatal Intensive Care Unit (NICU), at Cleveland Clinic Children's Hospital for Rehabilitation, and on hospital floors.
Respiratory services are referred by Pulmonologists, Allergists and Otolaryngologists.
Cleveland Clinic was one of the first hospitals to develop guidelines for respiratory care, which was established to ensure that patients receive the best possible, most appropriate therapy.
Our Respiratory Consult service has become a point of reference for other respiratory therapy departments across the country.
Respiratory therapists in the Pediatric Institute play an integral role in making recommendations and delivering outstanding pediatric patient care, working with physicians and nurses to provide the appropriate level of respiratory therapy for each child.
Our team provides 24-hour coverage of children with respiratory needs in any area of the hospital.
What We Treat
What We Treat
Respiratory therapists are specialists in airway car and mechanical ventilation. We evaluate, treat and care for children with a wide range of breathing problems, such as:
Breathing disorders associated with lungs or airway.
Illnesses affecting the neuromuscular or skeletal muscular cardiopulmonary system.
Our respiratory therapists are trained to:
Administer oxygen therapy.
Provide breathing treatments (medications in mist or gas form).
Removal of airway secretions (mucus).
Monitor the function of your child's lungs.
Check oxygen levels through blood tests and non-invasive monitoring.
Teach breathing exercises to the patient and family.
Provide advanced specific respiratory education to patients and families to assist them in the post discharge care of the patient.
Participate in specialized multidisciplinary care plans involving the cardiopulmonary system.
Provide advanced interventions to infants and children involving mechanical ventilation and support of the cardiopulmonary system.
Care for pediatric patients on mechanical ventilators (machines that provide breathing assistance).
Offer emergency care of children in shock or in need of life support.
Our Team
Our Team
Director of Cleveland Clinic Respiratory Therapy
Pediatric Respiratory Therapy Manager
Kathy Fedor, MBA, RRT-NPS
Research Manager
Rob Chatburn, RRT-NPS, FAARC
Supervisors
Clinical Specialists
Suzanne Coleman, BS, RRT – Clinical Instructor
Eduardo Marquez, RRT – Shaker Campus
Appointments
Appointments
To schedule an appointment, please call 216.444.1183 or 800.223.2273. You can also send us an email.
Hours of operation: 8 a.m. to 5 p.m. weekdays