Overview
Overview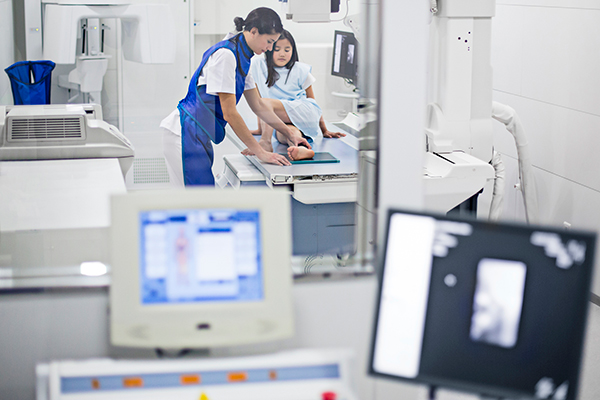 We provide a variety of pediatric radiology services to assist in diagnosing disorders in children from the tiniest premature infants to teenagers. Our goal is for the child and the family to have the most comfortable experience within a professional atmosphere. Our services range from film radiography to advanced imaging technologies. We see pediatric patients at Cleveland Clinic Main Campus, Hospital for Rehabilitation Campus, Family Health Centers and convenient community locations.
Multi-specialty care
We work closely with other pediatric specialists to provide timely, accurate and effective diagnosis and treatment.
Specialty trained
All of our doctors are board-certified in diagnostic radiology.
Image-guided intervention
We interpret images using all of our imaging technologies and also perform imaging-guided interventional procedures, including biopsies and drainages.
Dedicated pediatric MRI unit
Cleveland Clinic Section of Pediatric Radiology has a dedicated pediatric MRI unit fully supported by pediatric anesthesiology, advancing the quality of our care.
Commitment to low-dose radiation
We continue to be strongly committed to lowering the radiation dose for children undergoing CT. Our physicians endorse the Image Gently(SM) campaign of the American College of Radiology and the Society for Pediatric Radiology, and work toward advancing those goals through practice, as well as research on radiation dose reduction in CT.
What We Treat
What We Treat
Imaging studies performed in our department include:
Computed tomography (CT) using low dose scanning techniques with 3-D reconstruction when appropriate.
Doppler.
Fetal MRI.
Film radiography.
Fluoroscopy.
Interventional radiology.
Magnetic Resonance Imaging (MRI).
MR spectroscopy.
Ultrasound.
Ultrasound-guided joint injection.
Vascular Anomalies MRI.
Our Doctors
Appointments
Appointments
To schedule an appointment, please call 216.445.9597 or 800.223.2273. You can also send us an email.
Hours of operation: 8 a.m. to 5 p.m. weekdays.