Overview
Overview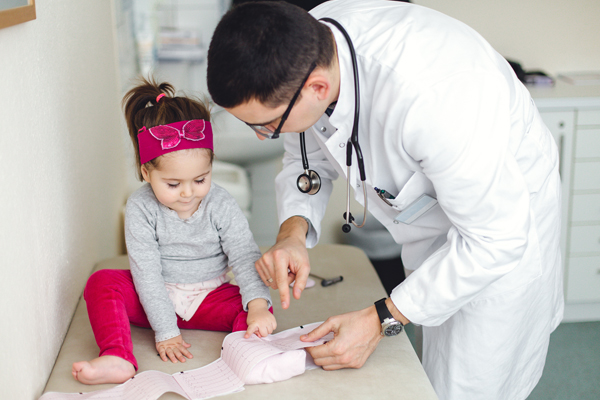 Our pediatric intensive care unit (PICU), staffed 24/7 by a team of highly skilled pediatric intensivists, ensures safe transition from the emergency department or operating room to recovery. We typically treat and care for over 1,000 pediatric patients a year from Ohio, as well as children from other states and foreign countries.
Our staff quickly recognizes,early signs of respiratory failure, cardiac instability, changes in mental status and pain
The extra seconds or minutes gained permit faster intervention, staving off medical crises and often saving lives.
The Pediatric Critical Care Transport team is available 24/7 to transport critically ill children to our hospital from locations throughout the United States and across the globe via, ambulance, helicopter and fixed wing aircraft.
The team transports over 1,300 children to our hospital annually.
Our Children's specialists take care of pediatric patients across Cleveland Clinic's health system.
Skilled and Experienced Pediatric Intensivists and Nurses
Eight highly skilled board-certified pediatric intensivists work closely with 5 experienced pediatric nurse practitioners with additional certification in acute care, 60 skilled critical care nurses, 20 respiratory therapists and numerous nursing assistants on the 25-bed PICU.
24 Hour Care and Supervision
A full-staff, attending pediatric intensivist is on duty 24 hours a day, seven days a week, including weekends and holidays.
A fast-track extubation guidelines reduces the potential for iatrogenic complications (pneumonia, line infections, feeding difficulties, aspiration, sedative dependence) in selected patients.
Multidisciplinary Approach
PICU physicians, nurse practitioners, nurses and respiratory therapists co-manage patients with Children's specialists and sub specialists, such as pediatric epileptologists, pediatric cardiologists, pediatric cardiothoracic surgeons and pediatric neurosurgeons.
Developmental pediatricians and physiatrists from Cleveland Clinic Children's for Rehabilitation evaluate potential candidates for follow-up rehabilitation, often initiating therapy prior to discharge.
Pediatric nutritionists, child life specialists and social workers are standing by in order to provide support to patients, parents and siblings as needed.
Critical Care Transport
One phone call brings the expertise of Cleveland Clinic physicians, nurse practitioners, critical care nurses, paramedics, and allied health professionals to those who need it anywhere at anytime.
Specialty care teams are provided for infants, children and adults.
While in transport, we can provide direct communication back to the referring physician.
Our team also can facilitate return transport when needed.
What We Treat
What We Treat
Standing vigil day and night over pediatric and adolescent patients, we provide a level of safety and pediatric pain management few other major children's teaching hospitals can offer. Our outcomes for treating even the most complex cases and illnesses in children are significantly better than the national average.
While there are a variety of reasons to be admitted to the PICU, there are a few conditions and complications that are more commonly seen in our unit.
Congenital Heart Disease
Patients admitted to the PICU range from premature, 1,500-gram neonates with congenital heart disease and respiratory failure to adults who have undergone congenital heart surgery.
Approximately one third of all PICU admissions come from Cleveland Clinic's Center for Pediatric and Congenital Heart Diseases.
Respiratory Failure
Respiratory failure is one of the most common reasons for PICU admission. A potential complication of certain types of surgery, it may also arise from acute pneumonia, airway obstruction, or bronchiolitis.
Multiple types of ventilator support are available: noninvasive, conventional, high frequency oscillatory ventilation, and delivery of inhaled nitric oxide.
Status Epilepticus
Status epilepticus frequently calls for mechanical ventilation plus pharmacotherapy.
Pediatric intensivists work in concert with nationally respected Cleveland Clinic epileptologists and pediatric neurosurgeons in managing complex cases of status epilepticus.
Our PICU staff also has vast experience with:
Complex infections
Metabolic disorders
Pediatric brain tumors
Vascular malformations
Staff
Appointments
Appointments
Referrals
For consultations with intensivists or to arrange admission to the Pediatric Intensive Care Unit.
Call: 216.444.8302
Hours: 24 hours a day, 7 days a week
Online: Send us an email
Transfers
For hospital transfers, physicians can contact us below:
Call: Call: 216.444.8302 or 800.553.5056
Hours: 24 hours a day, 7 days a week
Online: Send us an email
Critical Care Transport