Overview
Overview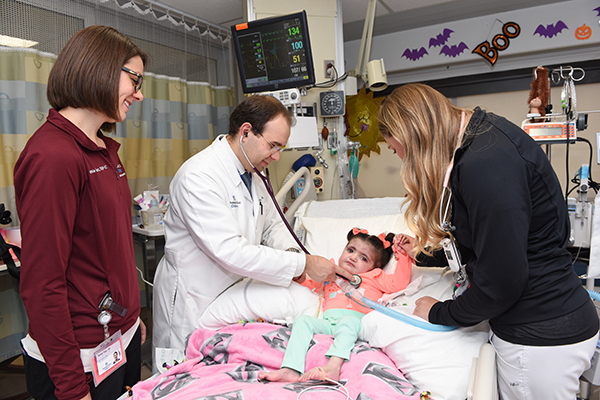 Our pediatric intensive care unit (PICU), staffed 24/7 by a team of highly skilled pediatric intensivists, nurse practitioners, ICU nurses and respiratory therapists, ensures safe transition from the emergency department or operating room to recovery. We treat and care for over 1,500 pediatric patients a year.
Our staff quickly recognizes early signs of respiratory failure, cardiac instability, changes in mental status and pain. Thereby allowing for timely interventions and speedier recoveries, while focusing on the comfort of our patients and their families.
The Pediatric Critical Care Transport team is available 24/7 to transport critically ill children to our hospital from locations throughout the United States and across the globe via, ambulance, helicopter and fixed wing aircraft. The team transports over 1,300 children to our hospital annually.
Skilled and Experienced Pediatric Intensivists and Nurses
A team of highly skilled board-certified pediatric intensivists work closely with experienced pediatric nurse practitioners with additional certification in acute care. Our 25-bed PICU is also staffed with skilled critical care nurses, respiratory therapists and nurse assistants.
24 Hour Care and Supervision
A full-staff, attending pediatric intensivist is on duty 24 hours a day, seven days a week, including weekends and holidays.
Multidisciplinary Approach
PICU physicians, nurse practitioners, ICU nurses and respiratory therapists co-manage patients, working together with Cleveland Clinic Children's specialists and sub specialists as needed.
Developmental pediatricians and physiatrists from Cleveland Clinic Children's Hospital for Rehabilitation evaluate potential candidates for follow-up rehabilitation, often initiating therapy prior to discharge to the rehabilitation setting or home.
Pediatric nutritionists, child life specialists and social workers are engaged in the daily care of each child and provide support to patients, parents and siblings as needed.
Critical Care Transport
One phone call brings the expertise of Cleveland Clinic physicians, nurse practitioners, critical care nurses, paramedics, and allied health professionals to those who need it anywhere at any time.
Specialty care teams are provided for infants, children and adults.
The transport team is guided by our intensivists during the transport
Our team also can facilitate return transport when needed.
What We Treat
What We Treat
While there are a variety of reasons to be admitted to the PICU, there are a few conditions that are more commonly seen in our unit.
Congenital Heart Disease
Approximately one third of all PICU admissions come from Cleveland Clinic's Center for Pediatric and Congenital Heart Diseases.
Patients admitted to the PICU range from babies with congenital heart disease and respiratory failure to adults who have undergone congenital heart surgery.
Active heart transplant, ECMO and VAD programs
Respiratory Failure
Respiratory failure is one of the most common reasons for PICU admission and may arise from acute pneumonia, airway obstruction, bronchiolitis or following complex surgeries.
Multiple types of ventilator support are available: noninvasive, conventional, high frequency oscillatory ventilation, and delivery of inhaled nitric oxide.
Status Epilepiticus
Status epilepiticus frequently calls for mechanical ventilation plus pharmacotherapy.
Pediatric intensivists work in concert with nationally respected Cleveland Clinic epileptologists and pediatric neurosurgeons in managing complex cases of status epilepiticus.
Our PICU staff also has vast experience with:
Bone marrow, liver and kidney transplant patients
Renal replacement (dialysis) therapies
Pediatric brain tumors
Diabetes
Staff
Staff
Physicians
Providers
Kathleen Atlagovich, CPNP
Ashley Babjak, CPNP
Kiersten Burns, CPNP
Jamie Fast, CPNP
Lauren Flagg, CPNP
Heather Krichbaum, CPNP
Vivienne Larose, CPNP
Dana O'Keefe, CPNP
Karen Paradise, CPNP
Michelle Wilson, CPNP
Allison Zeiger, CPNP
Michelle Bruno, Nurse Manager
Appointments
Appointments
Referrals
For consultations with intensivists or to arrange admission to the Pediatric Intensive Care Unit.
Call: 216.444.8302
Hours: 24 hours a day, 7 days a week
Online: Send us an email
Transfers
For hospital transfers, physicians can contact us below:
Call: Call: 216.444.8302 or 800.553.5056
Hours: 24 hours a day, 7 days a week
Online: Send us an email
Critical Care Transport