Overview
Overview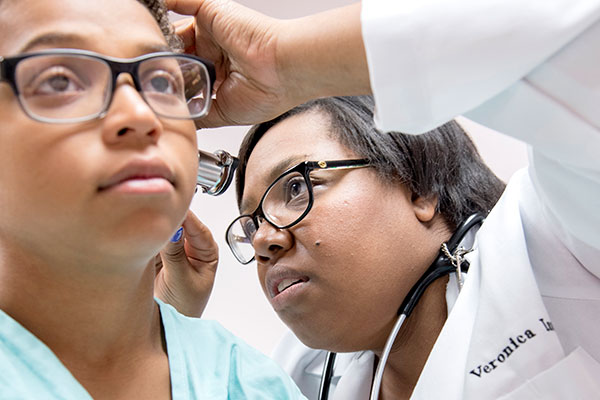 The Adolescent Medicine Center at Cleveland Clinic Children's provides primary care and specialized care for tweens, teens, and young adults ages 10-22 years. We offer specialized referral services and a wellness approach to preventive medicine, including: reproductive healthcare (period problems, gynecologic nonsurgical needs, comprehensive counseling), obesity counseling, eating disorder prevention and medical management.
Our adolescent medicine physicians and nurse practitioners are dedicated to providing quality, evidence-based care for all our adolescent patients.
We see adolescent patients in the R Building on Cleveland Clinic's main campus, and our general pediatric colleagues see teens at our family health centers.
Cleveland Clinic Children's consistently ranks among the top children's hospitals by U.S. News & World Report.
Our Adolescent Medicine physicians have been ranked as Top Doctors for the past decade in Cleveland Magazine, Northern Ohio Live, as well as in Who's Who for Medicine, Science and Technology, Who's Who in American Women, and as part of Crain's Health Care Heroes.
Thus, our Adolescent Medicine physicians are among the best in the country, utilizing a multidisciplinary team approach as needed to help coordinate/improve care for your adolescent(s).
As a supplement to primary care pediatrics, our specialists also can perform routine gynecologic care, as well as complex medical management of children, adolescents and young adults with eating disorders and obesity.
What We Treat
What We Treat
We treat and care for our adolescent patients who are diagnosed with, or who require care for the following behavioral and developmental issues:
Androgen Insensitivity
Body Image Problems
Bone Health Problems
Breast Disorders
Eating Disorders
Gynecomastia
Menstrual Disorders
Preventative Medicine
Prevention of Teen Pregnancy
Problems of Growth and Development
Routine gynecological care
Substance Abuse
In addition to treating puberty related issues, our services also extend to children between the ages of 8 and 11 who are pre-pubertal or peri-pubertal and may have specific age-related issues.
Programs
Programs
Obesity Programs: Fit Youth Program,Obesity Evaluations, Protein sparing modified fast
Wellness initiatives: 5 to Go! Food is Knowledge, Healthy Futures, Smoking cessation
Eating Disorders: Medical evaluation and treatment for ages 5-22 years of age through our Center for Eating Disorder.
Obesity evaluations performed by Drs. Veronica Issac and Ellen Rome, in conjunction with our certified dietitians.This process consists of monthly follow ups as necessary. Additionally, protein sparing modified fasting is available for highly motivated adolescents.
Gender Understanding, Identity and Expression (GUIDE) Pediatric Program
The Gender Understanding, Identity and Expression (GUIDE) Program provides an evaluation and wide range of support and intervention for youth (childhood through adolescent years) who are gender questioning, gender non-confirming, gender fluid, or transgender, or who are struggling with any other issues around gender. Sometimes they are trying to figure out gender identity, or how they want to express gender; sometimes they may just feel like their gender assigned at birth doesn't fit quite right. Our team works toward the goal of finding a path that is right for your individual child and family.
Benefits
Benefits
We use a state-of-the-art, evidence based, multidisciplinary approach in treating our adolescent patients. In this way, as a parent, you know we are using all of our resources and knowledge to ensure we are treating and caring for your child at every level.
Our team consists of:
Pediatricians/Adolescent Medicine experts
Psychologists
Psychiatrists
Social workers
Dieticians
Staff
Appointments
Resources
Resources