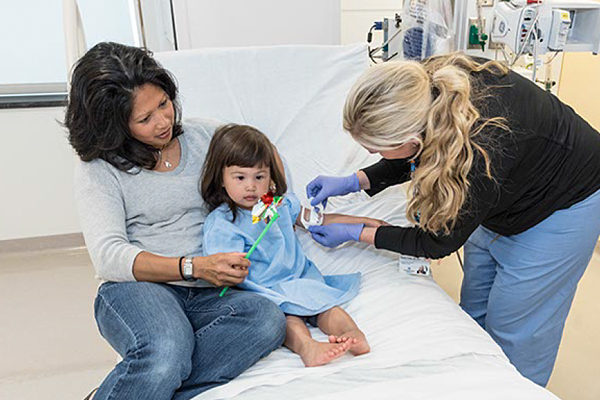 When emergencies happen, you can feel confident knowing the world class care of Cleveland Clinic and Cleveland Clinic Children's is nearby. With convenient locations, advanced technology, and a wide range of medical expertise, we offer children specialized treatment for everything from illnesses to critical injuries. Pediatric specific emergency departments are located at Fairview Hospital and Hillcrest Hospital.
Emergency Departments, Urgent Care and Express Care Clinics are assuredly safe environments for children to receive treatments. Our team of experienced, highly trained and dedicated pediatric professionals provide excellent care specifically for children. Emergency Departments treat children quickly and efficiently, featuring a new streamlined process that reduces wait times. Our Urgent Care and Express Care Clinics provide prompt treatment for children with minor illnesses and injuries.
No appointments are necessary, and walk-ins are welcome. It's important to know where your child should go when an unexpected illness or injury occurs.
For nonemergency concerns patients ages 2 and older can get a diagnosis and treatment through Express Care Online, which is medical care built for the way your family lives today. It's a simple, affordable service that lets you have a virtual visit with a healthcare provider whenever and wherever you want, via an Internet connection or by mobile app. No appointment is necessary and providers are available 24/7/365.
Select pediatric patients can also have virtual follow-up appointments with their Cleveland Clinic specialist. Ask your provider if a virtual appointment is right for your child!
Learn more about all of our emergency, urgent and express care services.