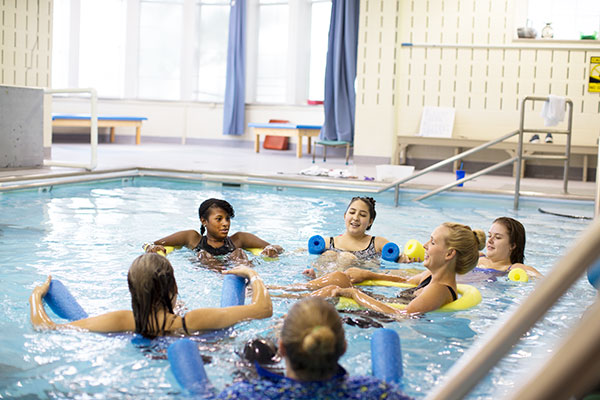 Many children with musculoskeletal and neurological conditions benefit from aquatic therapy, as do children recovering from major surgeries or traumatic injuries. Our Adaptive Aquatic Therapy Program at Cleveland Clinic Children's Hospital for Rehabilitation, is available for both inpatient and outpatient therapeutic needs.
The children benefit from the physical properties of water, which assist in healing and exercise performance. Additional benefits include:
Better posture.
Improved balance and coordination.
Reduced pain.
Greater flexibility.
Better range of motion.
Reduced joint strain.
Our state-of-the-art therapeutic pool is temperature controlled at a warm 92 degrees and is adapted with railings, short steps and a chair lift to accommodate patients with a number of challenges.
Children may take advantage of the pool as an extension of their physical and occupational therapy goals or through learn-to-swim programs, in which recreational therapists, specially trained in adaptive techniques, work one-on-one with children to maximize their functional independence in the pool. The 30-minute sessions run every other week for 8 weeks and you must pre-register.
Adaptive Aquatic Therapy is for children with any special need. Conditions that may benefit include:
Arthritis.
Autism.
Cerebral palsy.
Down syndrome.
Orthopedic disorders.
Spina bifida.
Pain.
The pool is also available for families of special needs children through our community swim program.
Locations
Contact Us
For adaptive aquatic physical or occupational therapy, call 216.444.KIDS (5437).
For recreational adaptive aquatic therapy, Saturday community swim and one-on-one family swim, contact Keri Osolin, CTRS, Adaptive Aquatics Specialist, at 216.448.6150.