Overview
Overview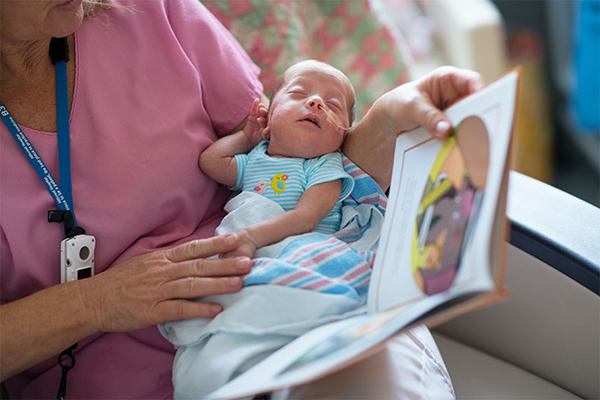 We provide expert care for children of all ages through several pediatric specialty care units at Cleveland Clinic Children's. Each unit is focused on individualized diagnosis, treatment and monitoring for a variety of infant and childhood diseases and conditions. We see pediatric patients at Cleveland Clinic Main Campus, as well as at a number of our family health centers throughout the community.
Doctors of all specialties, along with many other specially trained pediatric experts, such as nurses, therapists, social workers and nutritionists, provide a blend of advanced technical care with compassion and support for the patient and family.
Unlike other PICUs, our unit has attending physician coverage 24 hours a day, 7 days a week. This means that our young patients consistently receive the highest level of care at all times.
Our specialty care units provide family-friendly amenities making even long-term stays comfortable for both patient and family.
A special parents' waiting area is immediately adjacent to the pediatric outpatient operating rooms, providing immediate accessibility to the child if needed.
What We Treat
What We Treat
Birth defects.
Congenital malformations.
Gastrointestinal disorders.
Heart disease.
Hematologic disorders.
Infections.
Inherited metabolic disorders.
Neurologic problems.
Newborns born prematurely.
Our units are fully equipped to care for newborns and children with the most complex medical problems, such as:
Those requiring cardiac transplants.
Exhibiting cardio respiratory disorders.
If you have questions, please contact Birthing Services at 800.223.2273.
Benefits
Benefits
The Intermediate Care Unit is an inpatient unit dedicated to the care of children who require a higher level of care than routine inpatient pediatric care, yet not to the degree of intensity of pediatric critical care.
The Department of Neonatology has a state-of-the-art Level III neonatal intensive care unit at Main Campus. Our NICU will grow from 62 to 72 beds unit which serves critically ill infants and their families including those who need neonatal surgery. Board-certified neonatologists provide 24-hour coverage throughout the pediatric system at Cleveland Clinic.
The Outpatient Surgery Unit offers complete outpatient surgical facilities designed and equipped specifically for children and adolescents.
Twenty adolescent beds will be added at Main Campus and a new 13-bed pediatric psychiatric unit will open at Fairview Hospital to serve the growing need for pediatric services. The Psychiatric Unit at Cleveland Clinic Children's is designed to optimize pediatric patient care in a nontraditional hospital setting. The dormitory-style, three-bed rooms provide a comfortable home-like atmosphere. The unit's focus of care is helping children develop self-esteem, learn to set and accomplish goals, and make decisions about their own treatment.
This 15 bed unit cares for patients admitted to the PCICU ranging from newborn babies with congenital heart disease to those patients, both pediatric and adult who have undergone congenital heart surgery.
The eight-bed Pediatric Epilepsy Monitoring Unit provides prolonged monitoring and around-the-clock video EEG recording of seizures in children who are being considered for epilepsy surgery. The unit is completely computerized, with automatic spike and seizure detecting methods.
The Judith M. Power Pediatric Dialysis Unit meets the unique medical, emotional and social needs of children and their families. It is the only dedicated pediatric dialysis unit in Northeastern Ohio affiliated with a full-service transplant center. The unit is staffed by specialists in nephrology and urology, nurses with experience in the care of children with renal disease, and pediatric social workers familiar with the problems these patients and their families face. The unit provides comprehensive care for children and adolescents undergoing hemodialysis, peritoneal dialysis and continuous ambulatory peritoneal dialysis.
Our Pediatric Intensive Care Unit housed within Cleveland Clinic Children's is expanding from 15 to 25 beds. The unit's highly skilled professional staff is available 24/7 in caring for critically ill newborns, infants and children, particularly those suffering from congenital heart disease.
Our Doctors