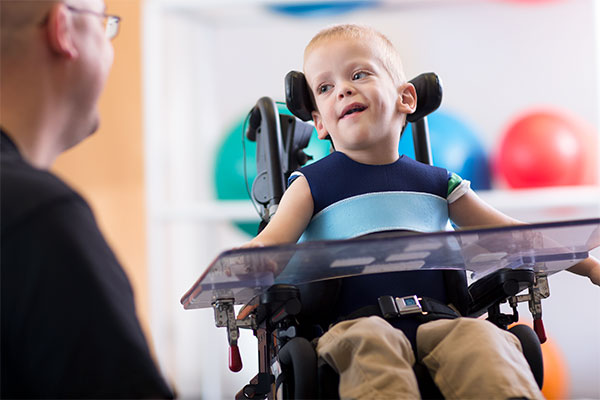 Our multispecialty team at Cleveland Clinic Children's Hospital for Rehabilitation assists children who require special adaptive equipment to improve their positioning and promote functional independence. We customize power and manual wheelchairs as well as other seating devices, building in growth potential to all seating systems.
We also assist in obtaining additional equipment such as: adaptive car seats, bath/shower chairs, adaptive transportation strollers, and other mobility devices. In addition, equipment trial sessions are offered to allow for training and determination of success with use of specific mobility devices and technology.
Team members include:
Physiatrist (pediatric rehabilitation doctor)
Physical therapist
Occupational therapist
School therapist or teacher
Orthotist
Wheelchair vendor
Parents
Home health aid
Our pediatric therapists are:
Familiar with the latest seating and mobility systems, including power assisted systems and customized seating
Expert at fitting the child to the wheelchair and the wheelchair to home and school environments
Well-versed in the reimbursement policies of Medicaid and other third-party payers
Coordinators of care with other specialty clinics, such as the Assistive Technology Center, to ensure compatibility of devices for mobility, communication, and activities of daily living
Specialists in pediatric care and the unique needs of families and children who are seen in this clinic
Locations
For more information, please call 216.448.6171.