Overview
Overview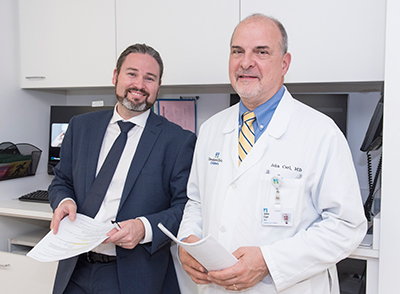 Cleveland Clinic Children's Pediatric Center for Airway, Voice and Swallowing Disorders (PCAVS) is an aerodigestive program offering integrated team assessment and care from multiple medical and surgical specialists for infants, children, and adolescents.
Patients with complex medical conditions of the upper and lower airway and respiratory system, esophageal disorders, and swallowing and digestive issues are the focus of this team approach. We see patients with complex congenital or acquired aerodigestive disorders, including but not limited to those with tracheostomies.
Patients can often be seen at a single location during one half-day visit and we are a state of the art facility equipped to treat a wide range of conditions both medically and surgically.
A sequence of visits is tailored for each child, who typically spends 30 minutes with each specialist. The team later holds a debriefing to discuss findings, progress and the treatment plan.
During the clinic, in-office diagnostic procedures and periodic endoscopic airway assessments can be performed. If additional problems are discovered, they can be addressed at the same visit. Should surgical intervention be required, we often combine a multi-team approach to perform several procedures simultaneously thus limiting exposure to anesthesia.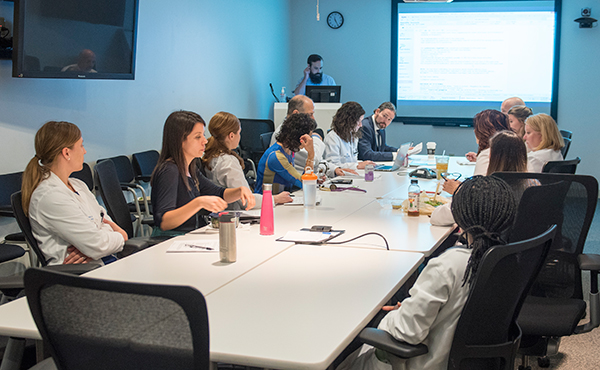 What We Treat
What We Treat
Aerodigestive conditions — from neurologic and sleep disorders to feeding problems and complications from tracheotomy — our experts provide comprehensive care that addresses your child's unique needs.
Learn more about some of the complex aerodigestive disorders we treat, including:
Aphonia
Apnea (central and obstructive)
Bronchogenic cysts
Bronchomalacia
Bronchopulmonary dysplasia
Chronic aspiration (tracheotomy dependent)
Craniofacial syndromes that cause airway obstruction and associated feeding problems
Drooling
Esophageal atresia
Esophageal duplications
Gastroesophageal reflux (GER) in Children / Adolescents
Gastroesophageal reflux (GER) in Infants 
Glottic stenosis
Hypoplastic lung
Hypoventilation
Laryngeal atresia
Laryngeal cleft
Laryngeal web
Laryngeal / tracheal / bronchial papillomatosis (sexually transmitted diseases)
Laryngomalacia (usually severe cases)
Malnutrition
Sleep disorders
Subglottic stenosis
Tracheal stenosis
Tracheoesophageal fistula (TEF)
Tracheomalacia
Voice disorders
Resources
Appointments
Appointments
Pediatric Center for Airway, Voice and Swallowing Disorders (PCAVS)
216.445.5878
After you call to arrange an initial appointment with our PCAVS team, one of our providers will reach out to you to perform a pre-visit intake. Please make arrangements to have copies of prior imaging, imaging reports, operative notes, laboratory studies, pathology reports, audiograms, and consult notes available that you would like us to review prior to your appointment.
Giving/Donations
Giving/Donations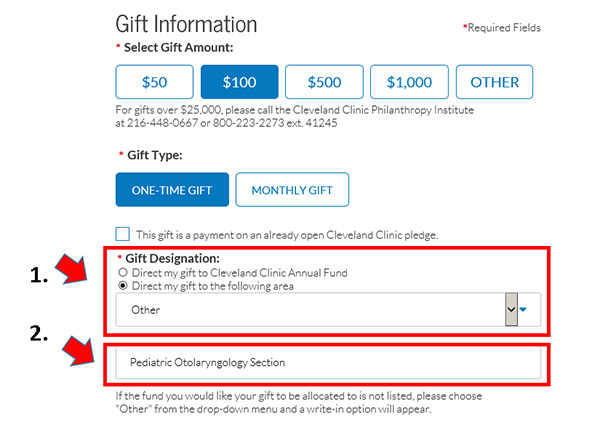 Your generous support for Pediatric Otolaryngology will help fund the future care of children via:
Pediatric Otolaryngology Specialty Program Support
Research Projects
Resident Education and Educational Travel Grants for Trainees
To donate to the Pediatric Otolaryngology Section:
Go to the Make A Gift page
Indicate the Gift Amount
Indicate the Gift Type
Under Gift Designation

a. Select "Direct my gift to the following area"
b. Select "Other"
c. A write-in option will appear
d. Type "Pediatric Otolaryngology Section"


Complete the rest of the information requested on the form
Click "Submit Your Gift"
Thank you for your support!