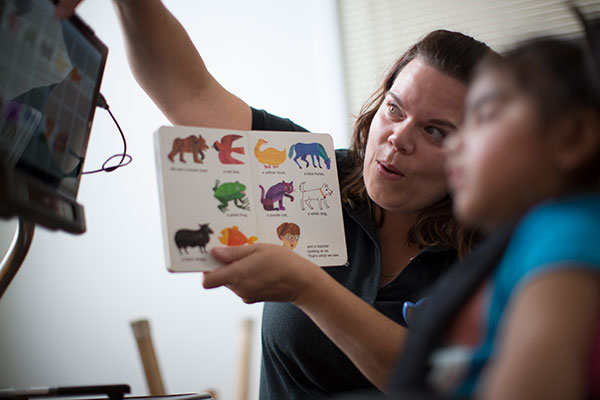 The Assistive Technology Center is located within the Cleveland Clinic Children's Hospital for Rehabilitation. Our Center's professionals develop customized augmentative and alternative communication systems for children and adults who have never spoken or who have lost their ability to speak due to accidents, injuries or other medical conditions.
Multidisciplinary team
A team of Cleveland Clinic professionals evaluate the communication needs of patients referred to the Assistive Technology Center. The team includes speech language pathologists and occupational therapists.
Prescribed communication systems
Based on the results of the evaluation, a communication plan is created with the individual's communication needs and physical abilities in mind. If an individual needs an augmentative and alternative communication system, Assistive Technology Center staff will help families get the right equipment. This system may include:
Introduction to no technology methods, such as sign language.
Paper-based or low technology communication systems.
High technology communication systems.
Alternative access equipment, such as switches, joy sticks, or eye gaze.
Additional services
Many individuals with complex communication needs also have other technology related service needs. In addition to an augmentative and alternative communication evaluation, our speech and occupational therapy team can provide the following assessments:
Mounting (both general and customized mounting, solutions for wheelchair dependent patients).
Computer access technology.
Simple environmental control assessments to improve daily functioning.
* Please note that the above listed additional services are highly specialized and insurance coverage is variable. Families are urged to check with their insurance provider regarding coverage of any of the above listed services.
Ongoing training and support
Assistive Technology Center staff can provide direct therapy to individuals as well as teach individuals, family members, and other team members how to use communication devices, so they can reinforce use of the devices or systems. Staff members help families find resources (e.g., private insurance, supplemental insurance, county support services, community fundraisers, grants) that may help them pay for any equipment they might need, and they offer consultation services to families, school districts, physicians, and other therapy professionals.
For more information, call 216.448.6157