Overview
Overview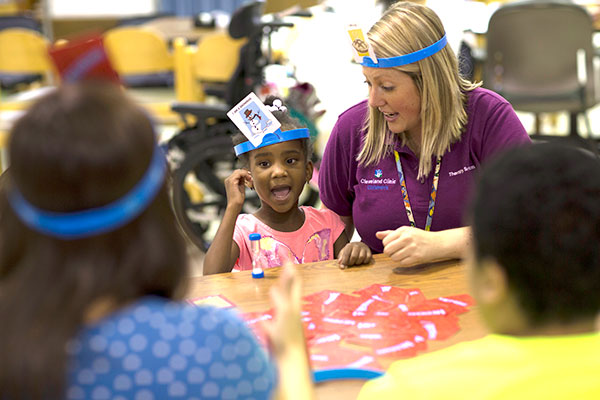 Our dedicated pediatric inpatient services provide care and rehabilitation to infants through children age 21 who require hospitalization or need acute rehabilitation due to illness, injury or complex medical or congenital conditions.
Our staff is specially trained in pediatric care. A unique team consisting of medical and rehabilitation specialists will collaborate to provide developmentally appropriate care that meets all aspects of your child's health and psychosocial needs.
Our goal through both our medical needs and rehabilitation programs is to ensure that your child receives the right services. Our team works closely with you and your child to increase your child's functional abilities and to ensure the whole family will be comfortable and successful with any ongoing complex care required when they return home.
Our pediatric family-centered rehabilitation program is accredited by the Commission on Accreditation for Rehabilitation Facilities (CARF), demonstrating our commitment to providing the highest quality services. Our treatment is tailored to meet the needs of each child's physical, psychological and educational circumstances. We also prepare parents to be successful, long-term support systems.
Cleveland Clinic Children's Hospital for Rehabilitation also offers outpatient therapy. Learn more about our outpatient services.
Hours of Operation
Nursing and physician coverage is available 24 hours a day, 7 days a week.
Physical, Occupational and Speech Therapy Services are available:
8 a.m. - 4 p.m. Monday - Friday
8:30 a.m. - 4 p.m. Saturday
Sunday is designed to be a day of rest for inpatient rehabilitation patients
Location
Inpatient Outcomes
Fiscal Year 2021
Number of patients discharged
31
Average number of days in rehabilitation program
40.4
Ages served
18 months - 21 years
Average number of therapeutic intervention hours per scheduled therapy day
At least 3 hours per day (per patient needs)
Percent of patients discharged home
83.9%
Percent of children discharged were in the community at 90 days follow up
96.8%
Patient and Family Satisfaction

How well did your providers listen and respond to your needs?

69.4%

How well did your providers assist you in discharge planning (durable medical equipment, community resources, home healthcare, outpatient services, etc.)

83%
MedTel Patient and Family Satisfaction Score (on a 4 point scale)
3.58
Percentage of Change in Functional Scores from Admission to Discharge (Higher is Better)

Children's Hospital
for Rehab
Similar Facilities
National Average
12.1%
10.9%
10.7%
10.9%
8.5%
8.5%
6.1%
2.7%
3.2%
Total
29.1%
22.2%
22.4%
What We Treat
What We Treat
Through our family-centered pediatric inpatient rehabilitation program, we provide specialized care for children with chronic conditions due to injury or illness. We encourage the entire family to take part in the program because we feel strongly that improves both the patient's and family's confidence and on-going success upon going home together.
Our unique program staffed by interdisciplinary team of experts in rehab medicine, therapeutic interventions and behavioral health, provides intensive inpatient services to meet the needs of each child's circumstances. We also work with parents and caregivers to ease their transition home and support their child for long term results.
Our care centers around patients with:
Traumatic brain injuries.
Epilepsy surgery patients.
Spinal cord injury.
Orthopedic rehabilitation needs, such as surgery or injury.
Spinal fusions and traction.
Complex injuries.
Neurologic disorders requiring rehabilitation.
Burns.
What To Expect
What To Expect
A team of specialists will evaluate each child and then an individualized treatment plan will be formulated.
School-age children entering the family-centered pediatric inpatient rehabilitation program will follow a rigorous schedule during which they will participate in scheduled therapy sessions and academic classes broken up with rest times, meals and visitation periods.
A general weekly activity schedule may be structured like this one below; however schedules may vary by medical condition, therapy sessions, clinic appointments, etc.
| | |
| --- | --- |
| 7 a.m. | Lights On |
| 7:30 a.m. – 8:30 a.m. | Breakfast |
| 8 a.m. – Noon | Therapies & School |
| Noon – 12:30 p.m. | Lunch |
| 12:30 p.m. – 1 p.m. | Rest Time |
| 1 p.m. – 5 p.m. | Therapies & School |
| 5 p.m. – 5:30 p.m. | Dinner |
| 5:30 p.m. – 6:30 p.m. | Evening R.T. |
| 6:30 p.m. – 8 p.m. | Homework/Visitation |
| 8 p.m. | Quiet Time/Prepare for bed |
Additional services offered
Community reintegration.
Music therapy.
Rehab group.
Rehab parent group.
Yoga.
Our Team
Our Team
Our unique, multi-specialty approach to treatment means that we focus on all your child's needs from the medical and physical challenges to the mental, emotional and educational requirements they may have. Therefore, a number of specialists may be involved in your child's therapy. The team may include:
Pediatric Rehabilitation Medicine (Pediatric Physiatrists)
Pediatric Hospital Medicine
Nurse Practitioners
Inpatient Pediatric Rehabilitation
Christine Halishak, CNP
Jennifer Scavone, CNP
Kathleen Whitford, CNP
Pediatric Pain Rehabilitation Program
Additional Program Staff
Additional program staff are available on consult as needed, which include:
Adaptive equipment specialists, in conjunction with our other therapists, help children reach their functional goals by designing and fabricating special equipment or adapting standard or existing equipment.
Aquatic (water) therapists work with children in our therapeutic pool. Sessions may be held with the aquatic specialist alone or in conjunction with a physical, occupational, speech/language, or recreational therapist. The warm water promotes relaxation and ease of muscle movement, assists with strengthening muscles, and advances land-based functional goals.
Certified Nurse Practitioners have specialized advanced training in pediatrics enabling them to address the unique concerns related to caring for chronic conditions in small children. They collaborate closely with physicians and other healthcare staff to ensure all of the child's physical needs are addressed appropriately and timely.
Music and art therapists encourage children to express their feelings and develop self-esteem using enjoyable, creative activities during individual or group treatment sessions.
Occupational therapists evaluate fine motor, play, and self-care skills in infants and children with a variety of diagnoses and levels of disabilities. Occupational therapists aim to maximize functional independence by teaching adaptive techniques and using adaptive equipment.
Physical therapists work with infants and children to enhance flexibility, strength, coordination, balance, endurance, gross motor skills, and mobility through play and exercise.
Physiatrists are medical doctors who have completed specialty training in physical medicine and rehabilitation. Physiatrists diagnose and treat disability resulting from disease or injury. They develop a comprehensive program to help patients restore function without surgery.
Psychologists help children and their families adjust to living with and caring for complex medical conditions. They address the psychological issues that may accompany complex medical conditions, such as coping with pain, anxiety, compliance issues that may be associated with chronic conditions and stress.
Recreational therapists promote increased functional independence, wellness, leisure activities, and recreation through developmental play, group recreation, exercise, and community reintegration trips.
Registered Nursing Staff helps to coordinate each child's medical care, educate both patients and parents on individual health conditions and care requirements, as well as offers advice and emotional support.
K-12 Teachers work with children to keep them current in their academics while in the hospital or rehabilitation program. Our teachers also coordinate successful reentry to public or private school by working closely with family and public administration professionals.
Speech/language pathologists assess how children communicate with the world by evaluating both understanding and use of language, as well as addressing feeding and swallowing abilities, oral motor skills and respiration. Speech/language pathologists also serve children with hearing loss and central auditory processing disorder.