Overview
Overview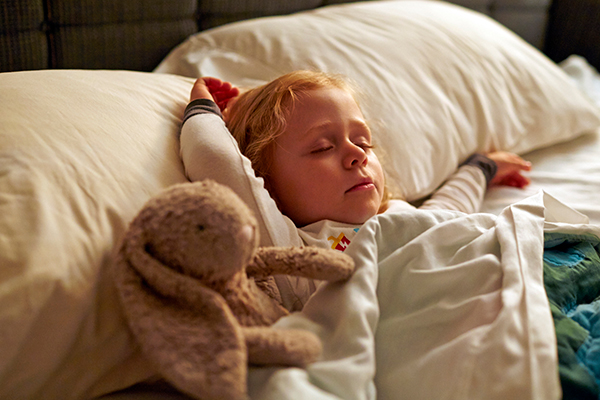 At Cleveland Clinic's Sleep Disorders Center, our multidisciplinary program is dedicated to the diagnosis and treatment of sleep disorders in children and adults. Our team approach unites pediatric sleep experts, neurologists, internal medicine, family medicine, pulmonary and critical care medicine specialists, psychologists, psychiatrists and otolaryngologists, under one roof.
Sleep problems may be seen in 25 to 30 percent of infants and children at some point in their lives. While sleep disturbances are frequently temporary, often they may become chronic if left untreated. They may be associated with external factors or medical problems. Cleveland Clinic's Pediatric Sleep specialists treat children and adolescents with sleep problems at Cleveland Clinic Main Campus, at Independence Family Health Center and Richard E. Jacobs Health Center. Overnight sleep testing is also performed at several hotel-based sleep laboratories in the region.
Cleveland Clinic's Sleep Disorders Center is accredited by the American Academy of Sleep Medicine. The center is part of Cleveland Clinic's Neurological Institute, whose neurology and neurosurgery programs for children and adults consistently have been ranked as national leaders by U.S. News & World Report's "America's Best Hospitals" survey.
Specialized Pediatric Treatment
Children spend a substantial part of their lives asleep. In fact, in infancy and early childhood, the developing brain seems to need more time asleep than it does awake. This underscores the importance of sleep in the overall well-being of a child. Children may suffer from lack of sleep simply by not sleeping an adequate number of hours or they may lack good quality sleep.
Sleep disorders may lead to inability to get up in time for school, daytime moodiness, irritability, lack of focus in class, and significant behavioral and learning problems. Substance abuse and absenteeism are known to occur. Some sleep disorders are serious enough to cause adverse cardiovascular and metabolic effects. Subtle symptoms may include:
Poor school performance
Moodiness
Inattention
Tiredness
Specialists in child neurology, pulmonary medicine, pediatrics, child psychology, psychiatry and ear nose and throat surgery work closely with the sleep specialist to diagnose and treat a variety of sleep-related issues. After obtaining a thorough medical and sleep history, all children receive a physical examination to identify any medical problems. Behavioral techniques and adjustment of children's sleep schedules can be helpful in many instances.
What We Treat
What We Treat
A sleep disorder is characterized by a disturbance of normal sleep patterns. Problems may range from insufficient or unrefreshing sleep, bedtime settling problems or sleep walking to more serious conditions such as sleep apnea and narcolepsy. If not treated, sleep disorders can become serious enough to interfere with normal physical, mental and emotional functioning.
We evaluate and treat the following pediatric sleep disorders:
Bedtime struggles
Sleep terrors
Circadian (biological clock) rhythm disorders
Nocturnal seizures
We evaluate and treat the following sleep disorders in older children/teens:
Insufficient sleep
Circadian (biological clock)
Rhythm disorders
Benefits
Benefits
Parents and patients are encouraged to tour the sleep lab on main campus. Streamlined care for children with special needs is also offered at that location. Each room is equipped with appropriate cribs and beds with safety guards for the special needs child. Attached full bathrooms offer privacy and the convenience of a shower before going directly to school the next day. A TV and selection of children's programming entertain children while the child friendly technologists apply sensors for testing.
For overnight visits, parents get a separate bed in our large comfortable rooms and are required to stay for the duration of the child's testing. You are encouraged to bring your child's favorite personal items like snacks, teddy bear or pillow.
Weekend testing is available in our hotel based sleep clinics and is available for children 8 years of age or older at various conveniently located hotels in the greater Cleveland area.
Staff
Appointments
Appointments
Locations
Overnight Sleep Testing
Hotel-based sleep laboratories have dramatically improved patient satisfaction, as overnight sleep testing can be performed in the comfort of a hotel suite, often quite close to home.
For patients of all ages, sleep studies are performed at:
*Cleveland Clinic Main Campus S Building
For patients 8 and older, sleep studies are performed at the following locations:
The Courtyard by Marriott Airport/North in North Olmsted
Fairfield Inn & Suites by Marriott in Beachwood
For patients 12 and older, sleep studies are performed at the following locations:
The Courtyard by Marriott in Independence
Hillcrest Hospital in Mayfield Heights
The Hilton Garden Inn in Twinsburg
The Holiday Inn Express in Mentor
The Motel 6 in Medina
The Ramada Inn Elyria/Lorain in Elyria
*Studies and testing for children and adolescents with special needs and/or certain types of medical conditions are performed at main campus only
Referrals
Call 216.636.5860 to schedule a sleep consult or to arrange a sleep study.
For Medical Professionals
Treat, Test or Turf? Screening and Triaging Children with Sleep Disorders
Resources
Resources
Treatment Guide
What's Keeping You up at Night?
Download our free treatment guide to learn more about:
Different types of sleep disorders in adults and children
Tailored treatment options for adults and children
Good sleeping habits
Our team of sleep specialists
Chat Transcripts
Sleep Related Topics
Additional Patient Resources