Overview
Overview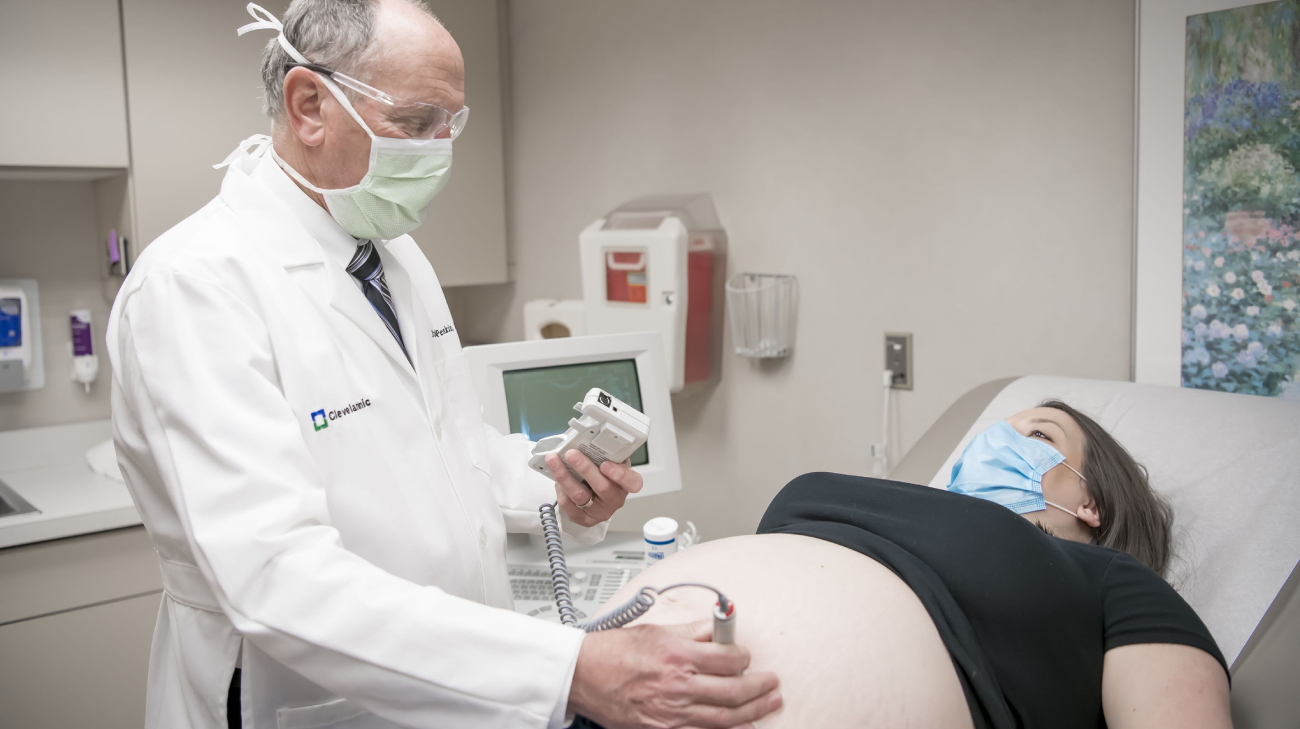 Pregnancy is a time of excitement, stress and anticipation. Adding a maternal health issue or fetal condition to an already emotional time can be overwhelming. At the Fetal Care Center at Cleveland Clinic, our team approaches your pregnancy complication with compassion and expertise. Our goal is to achieve the best possible outcome for both mother and baby while offering you the support and information you need.
Our coordinated program is designed to address the complex needs of families facing rare fetal and or maternal disorders in pregnancy. We offer state-of-the-art techniques for fetal diagnosis and intervention Our family-centered approach involves you in decision-making from the time of referral into our program to the time of your discharge. Continued support and resources are offered after the delivery of your baby.
The Fetal Care Center is one of few in the nation to provide services for both maternal and fetal conditions in pregnancy, labor, delivery and during the postpartum and neonatal periods. Our care team has some of the world's most extensive fetal surgery experiences for many conditions, including myelomeningocele, fetal lung malformations, fetal teratomas and other correctable anomalies.
Additionally, a full spectrum of sub-specialty care is available to pregnant women with serious diseases that may complicate labor and delivery. Women who have complex heart conditions are cared for in the number one center in the nation for heart care and babies are followed by a team of pediatric specialists who are nationally ranked.
Multidisciplinary team
The Fetal Care Center pools the talents of dozens of specialists in pediatric and fetal surgery, maternal-fetal medicine, neonatology, cardiology, neurosurgery, genetics, radiology, and other pediatric and adult subspecialties to coordinate care for the most complicated pregnancies and births. Our team consists of experts in a variety of specialties to ensure we are providing the highest quality care to you and your baby.
Your maternal-fetal medicine specialist and general OBGYN work closely with the team of sub-specialists and coordinators to plan for your needs and those of your baby.
One of the Few Programs Nationally Performing In-Utero Fetal Surgery
During a routine prenatal anatomy scan, Kimmie and Justin McCaw learned their unborn baby boy had spina bifida. They came to Cleveland Clinic for fetal surgery. Fetal surgery for spina bifida is a procedure where fetal surgeons open the uterus and close the opening in the fetus' back, while they are still in the womb.
Special Delivery Unit (SDU)
The program's centerpiece is the Special Delivery Unit, the first U.S. facility designed to provide specialized care for both mothers and newborns with serious medical issues. From initial consultation through delivery and the postpartum period, the Special Delivery Unit team offers support and coordinated services for both mom and baby. As part of the Fetal Care Center, the Special Delivery Unit provides moms, unborn babies and newborns advanced diagnostic and treatment options from fetal MRI and in utero intervention, to immediate newborn surgery. And, a full spectrum of sub-specialty care is available to moms with serious diseases that may complicate labor and delivery. The SDU has labor and delivery suites, triage, and a full operating room. There is also a state-of-the-art cardiac catheterization lab across the hall for those newborns requiring immediate help for a life-threatening heart abnormality.
Traveling to Cleveland Clinic Children's?
When your child is sick, you want the best pediatric care. Every year, thousands of families come to Cleveland Clinic Children's for everything from checkups to life-changing procedures. Where ever you are on your journey, our team is here for you. Learn more.
What We Treat
What We Treat
The Fetal Care Center offers services relating to maternal and fetal health concerns during pregnancy. Conditions we address are including but not limited to the following:
Maternal Health Conditions
Vascular disease in pregnancy
Genetic disease in pregnancy
Gastrointestinal Disease in Pregnancy
Neurological Disorders
Auto-Immune Disorders
Fetal Health Conditions
Neurological Disorders

Holoprosencephaly
Cephalic Disorders: Colpocephaly, Iniencephaly and Schizencephaly
Lissencephaly
Encephalocele

Lung and Airway malformations

Congenital Pulmonary Airway Malformation (CPAM)
Bronchopulmonary Sequestration
Congenital Diaphragmatic Hernia
Tracheoesophageal Fistula

Abdominal and Digestive Disorders

Gastroschisis
Duodenal atresia

Kidney and Bladder disorders:

Bladder Outlet Obstruction Posterior Urethral Valves
Urinary Tract Obstruction
Bladder Exstrophy
Dysplastic or Multicystic Kidneys

Skeletal/Orthopedic

Skeletal Dysplasia
Arthrogryposis
Congenital limb amputations and anomalies

Genetic Disorders

Trisomy 21
Trisomy 18
Trisomy 13

Other Fetal Conditions:

Amniotic Band Syndrome
Cystic Hygroma
Twin-Twin Transfusion Syndrome
Fetal Hydrops
Non-Immune Fetal Hydrops
Sacrococcygeal Teratoma
Cloacal Exstrophy
Programs
Programs
Benefits
Benefits
On-call support available for any concerns.
Fetal Care coordinators partner with you from the time of referral through your postpartum period. We offer emotional support, education, and assistance in scheduling visits. We also serve as a liaison between you and the members of your care team.
Our multi-disciplinary team of specialists meets on a regular basis to review each case and intentionally develop individualized plans for each family. Additional consultations and care are available from specialists in perinatal genetics, bioethics, child-life, lactation consultation, social work, and when needed, palliative care, hospice and perinatal bereavement counseling.
Should your child have an abbreviated life expectancy, we will walk by your side throughout even the most difficult of journeys. Cleveland Clinic's Fetal Care Center and our Cleveland Clinic Children's Pediatric Palliative Medicine team focus together on family-centered perinatal hospice care as we work with you to preserve hope while preparing you for birth and your time together as a family.
Our Team
Our Team
Fetal Care Center Staff
---
Visit each departments' webpage to learn more about the services they provide.
Bioethics
Obstetric Anesthesia/Pain Management
Fetal and Pediatric Echocardiologists
Fetal and Pediatric Electrophysiology
Pediatric Cardiothoracic Surgery
Appointments
Appointments
For Support and Referrals
216.444.9706
Maternal Fetal Medicine
Appointments (All Locations)
216.444.6601
Neonatology and Pediatric Surgery, Imaging and Specialty Consultations
Cleveland Clinic Children's
866.864.0430
Resources
Resources
Consumers
Podcasts
Listen to episodes of Cleveland Clinic's podcast Butt & Gutts about fetal surgery:
Health Essentials
Find medical, health and wellness news, information and insights from Cleveland Clinic:
Medical Professionals
Education
Watch videos from our virtual CME conference and learn from general practitioners and specialists about the continuum of care - Fetal and Congenital Cardiac Care: Lifelong Commitment to the Continuum of Care.
Consult QD
Find helpful posts from Cleveland Clinic's site for physicians and healthcare professionals. Discover the latest fetal surgery research insights, innovations, treatment trends and more: