Overview
Overview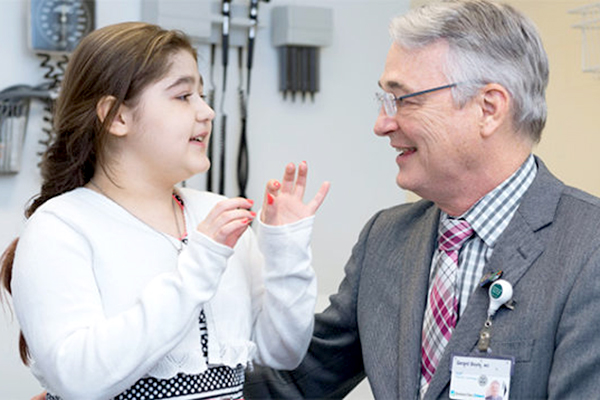 We have been performing organ transplants for children since 1971 at Cleveland Clinic Children's. Innovative procedures, world-class pediatric physicians and a multidisciplinary approach make us unique and allow us to focus on any organ transplant necessary for life sustaining or quality-of-life treatment.
Each child's family will work with a team that includes: specialty physician, transplant surgeon, dietitian, and pharmacist.
Why Choose Us
Cleveland Clinic has been recognized as a pioneer in the field of transplantation since performing the first kidney transplant in Ohio in 1963.
We are committed to expanding staff, resources and technical support to stay in the forefront of transplant technology.
We use a surgical-medical team approach, by which all staff transplant physicians are board-certified in a related medical specialty, and all transplant surgeons are board-certified in a related surgical specialty or have the international equivalent of board certification.
Child and adolescent patients are evaluated, supported, and treated by a world-class team of pediatric specialists, internationally renowned disease specialists, transplant surgeons, parenteral nutrition experts, pharmacists and social workers.
Pediatric and adolescent patients receiving transplants are admitted to our Cleveland Clinic's Children Hospital, which provides state-of-the-art care in a home-like setting where parents can stay right along with their children.
What We Treat
What We Treat
Our goal is to provide the most normal life possible for young patients. Since our program began, we have been pioneers in several areas of pediatric transplantation. Due to our world-class physicians and a multidisciplinary approach, we are capable of performing transplants in a number of specialty focused areas, such as:
Programs
Programs
Only a few transplant centers in the world offer intestinal transplantation as a treatment option for intestinal failure and complications related to parenteral nutrition (PN).
The Cleveland Clinic Pediatric Intestinal Rehabilitation Program and Nutrition Support Team provides children and adolescent patients with a unique opportunity to be evaluated, supported, and treated by a world-class team of pediatric gastroenterologists, parenteral nutrition experts and transplant surgeons.
Our program encompasses isolated bowel transplants, combined liver and small intestine transplants, as well as multivisceral transplantation, which usually includes stomach, duodenum, jejunum, ileum (colon may also be included), and pancreas.
The Tissue Transplant Program includes Cardiology/Cardiothoracic Surgery, Bone Transplant (which includes Orthopaedics, Pediatric Orthopaedics, Spine and Neurology), Urology, Colorectal Surgery, Vascular Surgery, Dentistry, Plastic Surgery, Obstetrics and Gynecology, Andrology and In Vitro Fertilization, General Surgery and Dermatology.
There are different types of bone marrow transplants, and the disease type and severity determine what type of bone marrow transplant is required. Most pediatric patients who require a bone marrow transplant have cancer, such as leukemia or lymphoma.
Corneal transplants are typically conducted because a particular medical condition, injury, or disease has made the central part of the front of the eye through which you see cloudy. Sometimes the solution only requires removing some of the cornea and replacing it with corneal tissue from an organ donor.
Cleveland Clinic Children's includes a team of internationally renowned pediatric congenital heart disease specialists and surgeons. The center's heart failure/transplantation team assesses and treats children with heart failure.
Alternatives to pediatric heart transplants, such as a mechanical heart, may offer lifesaving treatment or act as a bridge to heart transplantation.
Cleveland Clinic Children's Pediatric Heart Transplant Program has performed more than 110 heart transplants and is a leader in pediatric heart transplantation, with outcomes exceeding the national average.
Some of the first recipients of liver transplants were children. Although years ago, long-term post-transplant survival was poor, advances in surgical techniques and anti-rejection medicines have greatly increased the chances of a successful outcome for this treatment option in children. We perform transplantation in both living related donors and shared liver surgeries.
The Cleveland Clinic lung transplant program is an essential component of a broad medical and surgical strategy to manage all patients with pulmonary disease. In the last five years, Cleveland Clinic has proven to be a national leader in lung transplant, both in terms of patient volumes and successful outcomes. The transplant program has established a reputation for accepting and transplanting challenging, complex patient cases, which has led to our high referral rate.
Urologists who specialize in all diseases of the kidney work with our kidney transplant service, pediatric specialists, nurses and social workers to provide the highest quality medical care and emotional support.
Staff
Staff
Liver Transplantation
The Intestinal Transplant Team at Cleveland Clinic is comprised of surgeons, physicians, coordinators, nurses, social workers and a vast network of people and resources to make the intestinal transplant process as smooth as possible.
Intestinal Transplant Center Leadership
Intestinal Transplant Surgeons
Intestinal Transplant Physicians:
Additional Assistance
Renee Bennett, RN, BSN, CNOR, CCTN, CCTC - Clinical Manager
Christine Shay-Downer, RN, BSN, CCTC - Transplant Coordinator
Andrea Adler, RD, CSP, LD - Nutrition Coordinator
Christina DeTallo, MS, RD, CSP, LD - Nutrition Coordinator
Jeff Arnovitz, RN, MSN - Physician Assistant
Audrey Rush, LISW - Intestinal Transplant Social Work
Sheila Delson - Transplant Patient Financial Advocate
Appointments
Appointments
To learn more about pediatric transplant or to schedule a consultation please call 216.444.5437 (KIDS).
Resources
Resources
A variety of websites and articles offer additional information on the subject of transplantation and on procedures and organ donation.
General Links for Transplantation
General Links for Kidney Transplantation
General Links for Liver Transplantation
General Links for Heart Transplantation