Overview
Overview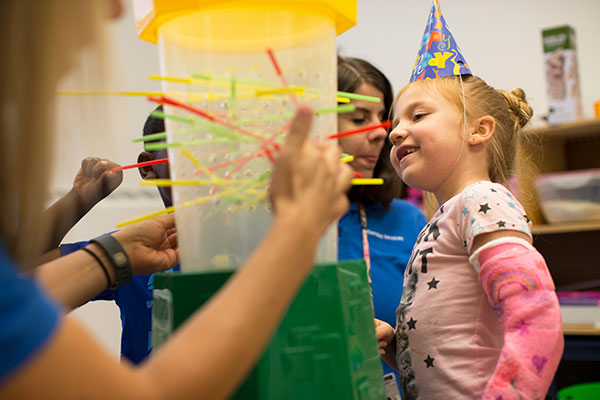 Cleveland Clinic Children's Upper Extremity and Brachial Plexus Program provides collaborative multidisciplinary care for children from birth to age 20 with conditions that result in upper extremity motor dysfunction.
Our goal is to help the child maximize functional use of the affected arm or hand using a variety of therapeutic approaches. Individualized assessments are completed and treatment programs are designed for each child.
In one convenient appointment, patients and families will meet with our interdisciplinary medical team who will jointly evaluate each child. The team may include a specialist from:
Physical medicine and rehabilitation
Hand surgery
Physical therapy
Occupational therapy
Orthopedic surgery (referred to Orthopedic surgery when indicated)
Neurosurgery (referred to Neurosurgery when indicated)
The team collaboratively develops individualized treatment recommendations unique to each child's circumstances. These may include:
Therapy Options
Outpatient occupational/physical therapy to increase functional ability and quality of life.
Constraint-induced movement therapy (CIMT) to improve spontaneous movement quality and increase overall functional use of the affected upper extremity.
Kinesio taping to facilitate use of weaker muscles and address muscle imbalances, as well as pain and sensory input.
Casts, splints and braces/orthotics to hold the elbow, wrist or hand in certain positions that are more functional or to prevent progression of joint contracture or stiffness that is restricting normal movement.
Surface electromyography (sEMG) to help children learn how to find or strengthen muscles they have trouble using.
Medical options
Anti-spasticity medication to relax muscles and increase function.
Botox injections or nerve blocks to weaken selective muscles and allow for the child to further straighten an arm or hand enough to practice functions, such as reaching and grabbing. This allows for functional practice, and it also provides opportunity to strengthen the nerve connections between the muscles and the brain centers that control those muscles.
Surgery options
Tendon lengthening
Tendon transfer
Bone fusion
Nerve graft
Scar tissue removal
What We Treat
What We Treat
Conditions affecting the function of hands and arms may present at birth or may occur later due to injury. At Cleveland Clinic Children's our team can address upper extremity conditions that may have resulted from:
Congenital deformities
Nerve or tendon trauma
Staff
Staff
Our team has a long history of working with children to maximize upper extremity function. Our collaborative team approach enables us to develop a comprehensive treatment plan that is tailored to meet the needs of each child's circumstances. Your child's care team may include:
Pediatric Rehabilitation Medicine (Pediatric Physiatrists)
Hand Surgeons
Occupational therapists
Sue Gara, OTR/L, Occupational Therapy Manager
Ryan Suder, MS, OTR/L
Jessie Stricker, MOT, OTR/L
Jenny Negrey, MOT, OTR/L
Physical therapists
Our team of physical therapists will help your child to enhance flexibility, strength, coordination, balance, endurance, gross motor skills, and mobility through play and exercise.
Appointments
Appointments
To schedule an appointment with the Upper Extremity and Brachial Plexus team at the Cleveland Clinic Children's Hospital for Rehabilitation campus, please call 216.448.6110.