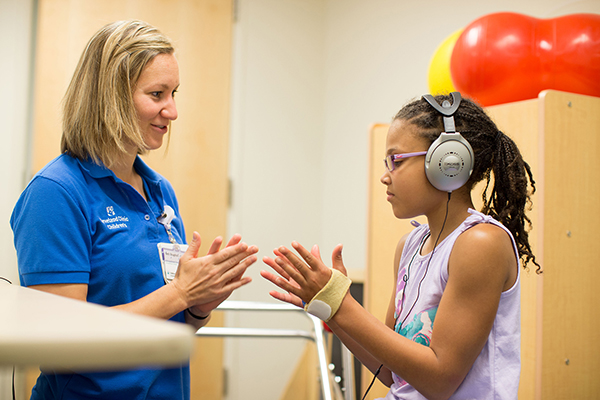 The Interactive Metronome® (IM) is a computer-based program designed to improve timing, attention, coordination and regulation in children and adults with a wide range of cognitive and physical difficulties. It works by having a child synchronize a range of whole body exercises to a precise computer-generated beat and provides visual and auditory feedback for improved timing, rhythm and synchronization in the brain. IM has game-like features which are motivating to children. The IM Program consists of 3 one hour sessions per week, for approximately 12-18 visits. The visits are billed as Occupational Therapy or Physical Therapy treatment.
Can help children diagnosed with:
Developmental delay.
Learning disability.
Dyslexia.
Nonverbal learning disorder.
Apraxia.
ADD/ADHD.
Auditory/language processing disorders.
Developmental coordination disorder/dyspraxia.
Autism.
Stuttering.
Down syndrome & other chromosomal disorders.
Fetal alcohol syndrome.
Sensory processing disorder.
Cerebral palsy.
Stroke.
Traumatic brain injury.
Areas of impact
Executive functions (attentional control, initiation, behavioral self-regulation, self-monitoring, self-correction, problem solving).
Attention (focused, shifting, selective, divided).
Working memory.
Processing speed.
Cognitive stamina.
Planning, organizing & sequencing.
Time-management.
Auditory processing.
Receptive language.
Expressive language (oral and written).
Thought organization.
Reading comprehension & fluency.
Articulation & speech intelligibility.
Phonological processing.
Motor speech (apraxia).
Fluency/stuttering/cluttering.
Motor planning & sequencing.
Coordination.
Balance.
Gait.
Posture.
Functional mobility.
Functional use of hemiplegic limbs.
Handwriting.
Sensory integration.
Social-behavioral skills.
As with any intervention, the varying degrees of severity affect the immediacy of the outcome. As long as the patient is able to perform or tolerate assisted repetitive limb movements, positive results from IM treatment should be seen over time.
For more information on our program, please contact your nearest Therapy Services Interactive Metronome location.
For more information and research on IM, please visit www.interativemetronome.com.
Locations