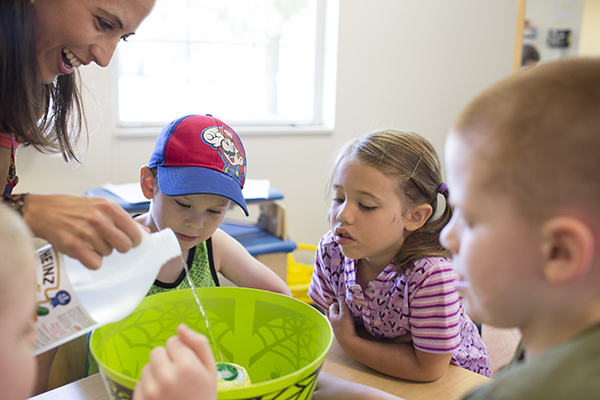 Cleveland Clinic Children's Hospital offers several specialty groups at various locations and times throughout the year. Each individual group has specific inclusion criteria. For more information on a specialty group offering, please contact your child's therapist or call 216.636.KIDS.
Driver's Ed
This is an anger management group based off of the book, "What To Do When Your Temper Flares." The children will learn how to take control of their emotions and be a "good driver" during fun, hands-on lesson plans.
Food School
Focuses on increasing a child's comfort level by exploring and learning about the different properties of food and allows a child to interact with food in a playful, non-stressful way, beginning with the ability to tolerate the food in the room and in front of him/her then moving on to touching, kissing, and eventually tasting and eating foods.
Game Break
This is a 6 week group focused on the development of age appropriate leisure participation though various games. The group utilizes board games and other interactive games to teach social and leisure skills.
Mindful Movement
Class which consists of breathing techniques, body awareness techniques, yoga poses, and a group relaxation experience. The class will has an emphasis on the unique mental health needs of children.
Model Me
A social skills group based on the Model Me Kids® video modeling program and Social Thinking®. Video modeling is used to demonstrate appropriate social skills. Goals include helping children to learn to relate to others, to work effectively as part of a team, and to learn effectively as part of a group.
Positive Pursuits (Leisure Skills and Positive Mental Health Group)
Positive Pursuits implements strategies for helping children feel good and do well; emphasis on enjoyable participation in meaningful hobbies & interest; managing stress; helping others; being grateful. Different leisure pursuits are covered each week.
Pre-School Language Group
Encourages vocabulary development and concept development for preschool aged children experiencing mild-moderate expressive and/or receptive language delays. This group focuses on the names of familiar objects, verbs and early concepts including descriptive words, location words, and opposites.
Social Thinking Camp
A social skills group based off the Social Thinking Curriculum. The goal of this camp is to help patients learn and build social communication skills to effectively interact with others at home, school, and within their everyday environment.
Summer Handwriting Camp
A fun, multi-sensory way for children to learn handwriting by participating in games and activities that help them develop skills for handwriting mastery. Handwriting camp also addresses letter formation, pencil grip, size, spacing, generalizing ideas, etc.
Young Artists
Group that focuses on leisure, fine/visual motor abilities and social skills through an art focus. Each week a different famous artist is discussed and the children get a chance to recreate a famous work of their art.