Overview
Overview
Our physicians are fellowship-trained pediatric otolaryngologists that are able to offer comprehensive and compassionate care for children with ear and hearing disorders. Hearing loss and ear disorders in children can seriously interfere with language and speech development, impair communication and adversely affect school performance.
Experts in the Section of Pediatric Otolaryngology provide medical and surgical services for ear disorders and hearing loss in children that can reduce the impact on social and educational development. Whether your child has a cholesteatoma, chronic ear disease, or hearing loss requiring implants, our nationally recognized team will evaluate and offer the safest and most effective treatment or surgery. When a child is diagnosed with hearing loss, we work closely with our pediatric colleagues in audiology, speech therapy, and genetics to establish an accurate diagnosis of the cause and degree of hearing loss and then implement the steps necessary for addressing your child's hearing impairment.
Our subspecialty clinics address pediatric hearing loss, hearing implants such as cochlear implants or bone anchored implants, and comprehensive pediatric audiology services.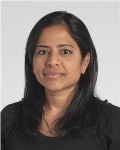 Samantha Anne, MD
Medical Director, Pediatric Ear and Hearing Disorders; Associate Professor, Pediatric Otolaryngology
What We Treat
What We Treat
Surgeons are able to evaluate and manage a myriad of conditions that affect children's ears including:
Auditory neuropathy spectrum disorder
Cholesteatoma
Chronic ear disease
Congenital aural atresia
Exostoses and ear canal stenosis
External auditory canal disorders
Hearing loss
Hearing implants
Microtia
Ossicular chain dislocations
Programs
Programs
Pediatric Hearing Management Clinic (PHMC)
The Pediatric Hearing Management Clinic provides a comprehensive, family-centered approach to the evaluation and management of children with hearing impairment. Our multidisciplinary team is focused on patient care, education and research.
The PHMC treats children who have been diagnosed with the following:
Congenital deafness
Unilateral or bilateral sensorineural hearing loss
Auditory neural spectrum disorder
Conductive hearing loss caused by aural atresia, microtia, and ossicular abnormalities
All of a child's hearing healthcare providers are in one setting through the PHMC, which is convenient for parents because multiple appointments with several pediatric specialists can be scheduled within one block of time. Each PHMC session is scheduled for approximately two hours, and children spend time with each specialist for evaluation.
Specialists from several areas may be involved in the child's evaluation and management process. Below is a brief description of the evaluations:
Pediatric Ear Surgery - The pediatric otolaryngology visit includes an examination of the child and discussion of possible etiologies of the hearing impairment. Laboratory and radiologic evaluations may be recommended and arranged. Treatment options, including possible surgical interventions when applicable, are discussed.
Audiology - Topics covered during appointments with the audiologist include an overview of the hearing management process, discussion of the child's hearing sensitivity and its possible implications, an overview of hearing assistive technology, and a review of support organizations. Children in the PHMC will still be seen for separate appointments by pediatric audiologists as they go through the hearing (re)habilitation process.
Speech-Language Pathology - During the Communication Consult the child's auditory ("listening" skills), speech (sound production and speech intelligibility), and language (receptive and expressive vocabulary/grammar, etc.) skills and abilities will be discussed and assessed.
Genetics - The genetic counselor will take a detailed family history and review the child's medical history for features suggestive of known genetic causes of hearing loss. Appropriate genetic testing may be offered and recurrence risks for family members will also be reviewed. Referral for a formal physical examination by a medical geneticist may also be offered.
At the conclusion of the appointments, the team will evaluate and discuss the child's case and determine the best management plan for the child and family and share the results. Some insurance companies exclude coverage for hearing loss. Please contact your insurance provider if you are unsure if hearing loss is covered.
To make an appointment in the Pediatric Hearing Management Clinic or if you have questions, please call our coordinator at 216.445.0075, option 4.
Resources
Appointments
Appointments
After you call to arrange an initial appointment with our team, one of our providers will reach out to you to perform a pre-visit intake.
Please make arrangements to have copies of prior imaging, imaging reports, operative notes, laboratory studies, pathology reports, audiograms, and consult notes available that you would like us to review prior to your appointment.
Cochlear Implant or Bone Anchored Implant Evaluations Appointments
Communication Evaluation Appointments with Dr. Don Goldberg
Phone: 216.445.5669, option 4
Pediatric Audiology Appointments
Pediatric Otolaryngology Appointments
Specialty Programs Contact Information
Pediatric Multidisciplinary Hearing Center (PMHC)
Phone: 216.445.0075, option 4
Giving/Donations
Patient Stories
Patient Stories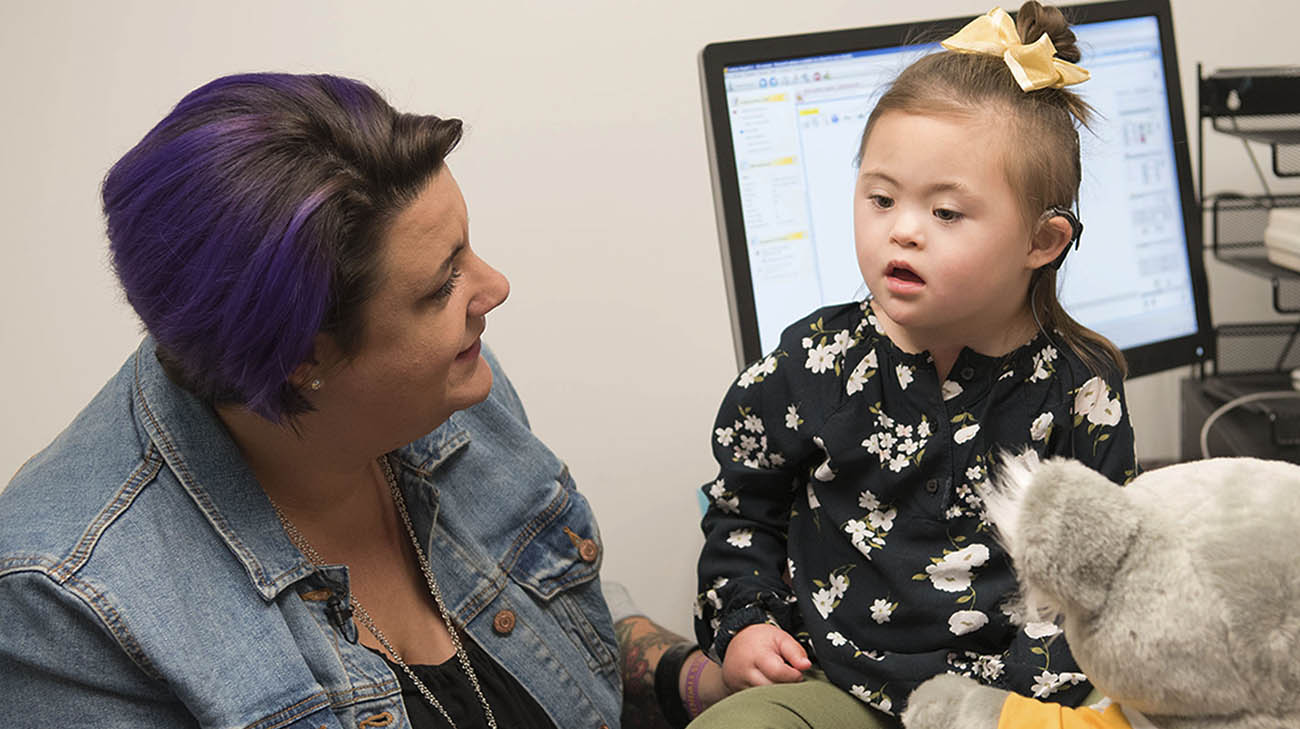 Oct 21, 2019
"Now, Grace can hear. I can see her eyes light up. She's starting to think, 'Oh, this is what it sounds like when mom is singing.'"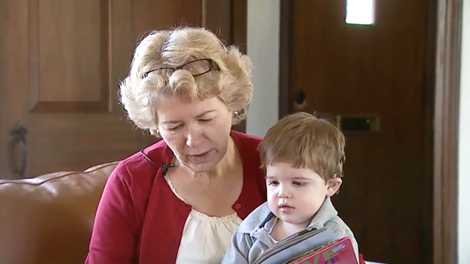 Dec 27, 2012
"That was the real 'a-ha' moment for us, that something he had never experienced before was happening."