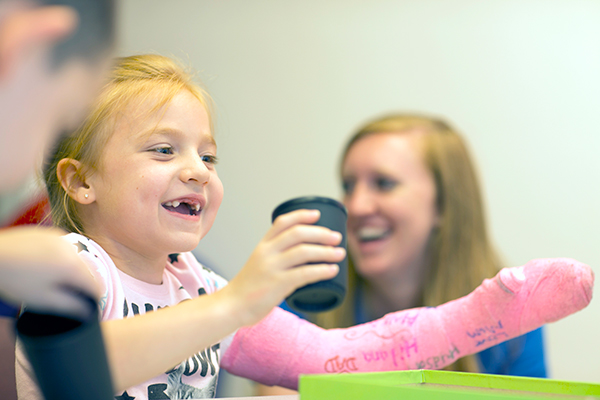 Cerebral palsy results from damage to the immature brain (before age two) which causes a disorder of movement and posture. While the damage to the brain does not change over time, the effects of cerebral palsy can change leading to new complications as the child grows and develops. Children with cerebral palsy can have a wide range of abilities and require different levels of care and support. Many children with cerebral palsy have difficulty taking in adequate nutrition to help them grow. Most children will also require special services from their school in order to maximize their education and independence. Our Cerebral Palsy Multidisciplinary Clinic addresses the challenges children with cerebral palsy can experience while offering support to families and decreasing the need to travel to multiple appointments.
Multidisciplinary care
Our physicians and clinicians recognize that complications from cerebral palsy can change as the child ages, and thus require specialized interdisciplinary care in which patients can see several medical sub-specialists in one appointment, at one location, including:
During the clinic session, the multidisciplinary team evaluates each child and makes treatment recommendations.
Treatment Options
Treatment options may include:
Medications or other interventions to manage muscle tightness and movements.
Nutritional assessment and recommendations.
Evaluation for orthotics and other equipment.
Evaluation of therapy services.
Working with schools to ensure appropriate IEP or other accommodations.
Social work consultation to maximize funding and community resources.
Locations
For more information or to schedule an appointment, please contact a nurse at 216.448.6182.