Overview
Overview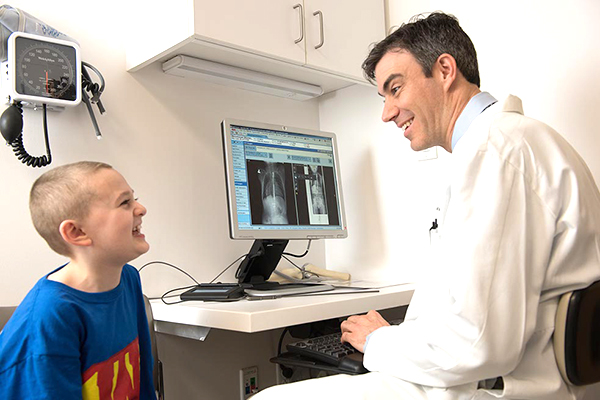 The Center for Pediatric Orthopaedics and Spine Deformity, associated with Cleveland Clinic Children's Hospital and part of the Orthopaedic & Rheumatologic Institute, offers comprehensive quality care for the complete range of common and complicated orthopaedic problems.
Whether your child suffers from a broken bone or other more serious orthopaedic condition, our center provides comprehensive care for pediatric patients with acquired or congenital bone and joint disorders.
We see child and adolescent patients in the Crile building on the 4th floor (A-41) at Cleveland Clinic's main campus and seven regional family health centers.
Cleveland Clinic has been providing comprehensive quality care for pediatric patients with acquired and congenital orthopaedic problems for 32 years.
Our orthopaedic specialists are trained to treat conditions specific to children.
We offer expert diagnosis and state-of-the-art treatment for any injury or disease of the bones and joints, from simple fractures to complex congenital orthopaedic cases.
Our pediatric orthopaedic specialists see more than 15,000 patients for spine, knee, hip and elbow problems each year.
Same day appointment or next business day access is available.
What We Treat
What We Treat
Orthopaedic surgeons treat disorders of bone, joint, spine and limb development in the growing child. These problems can be present at birth, may occur spontaneously as the child grows, or may be due to trauma, such as a broken bone.
Some of the issues we often see are:
General conditions:
Congenital pediatric orthopaedic conditions:
Hip conditions:
Foot and ankle conditions including:
Back pain including:
Upper extremity conditions including:
Knee and leg conditions including:
Programs
Programs
Same-Day Appointments
Call 216.444.2606 before 1 p.m. on weekdays, and we'll arrange for a Cleveland Clinic pediatric orthopaedist to see your child right away at one of multiple Northeast Ohio locations.
Benefits
Benefits
Multidisciplinary Approach to Orthopaedic Care
We bring together a team of highly trained specialists in order to determine the appropriate intervention and treatment plan for your child. Our orthopaedic team includes:
Pediatric Orthopaedic surgeons
Rheumatologists
Neurologists
Physiatrists
Radiologists
Anesthesiologists
Nurse Practitioners
Physical and Occupational therapists
Experts in sports medicine
Your child's pediatrician is an integral member of our extended team with whom we consult in developing treatment and, when appropriate, ongoing care plans for your child.
Between our pediatric orthopaedic surgeons' technical expertise and their involvement in ongoing research, we can offer your child the latest, most effective treatments.
Download our free treatment guide to learn more
Subspecialty expertise
Our board-certified surgeons offer the following:
Instrumented segmental spinal fusion with pedicle screw fixation for scoliosis
Hip arthroscopy and surgical dislocation of the hip for femoroacetabular impingement
Ponseti clubfoot treatment
Computerized correction of leg-length discrepancy and angular deformities using the Taylor spatial frame
State-of-the-art care of children's fractures
Strong orthopaedic research activity
Our research efforts in growth-plate biology are supported by the National Institute of Health and our clinical outcomes studies are supported by the Pediatric Orthopaedic Society of North America and Orthopaedic Research and Education Foundation, allowing us to continue studying and providing the most advanced treatments and highest quality of care.
Staff
Appointments