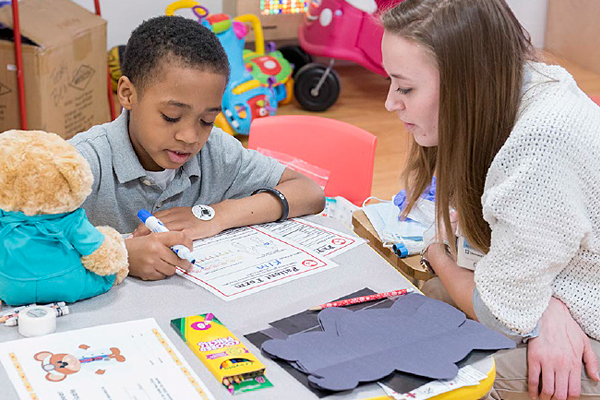 The Day Therapy Program offers children who require specialized, focused medical and developmental attention full access to the same services as inpatients, including:
Early childhood education.
Medical services.
Nursing services.
Nutritional counseling.
Occupational therapy.
Physical therapy.
Psychology.
Recreational therapy.
Speech/language therapy audiology.
Social work.
The child's daily schedule will be developed by the physician, the clinical team and the family. Therapy requirements, your family's needs, and transportation arrangements all are taken into consideration when determining the daily schedule.
Additional information to note:
We will administer prescriptions your child needs throughout the day.
We provide meals and snacks for your child, including any required special formula or diet.
Parents are always welcome in Day Therapy Program.
You are welcome to attend any scheduled patient care meetings to discuss your child's progress.
For more information, please call 216.448.6035.
The Day Therapy Program at Cleveland Clinic Children's Hospital for Rehabilitation offers regular, intensive therapy without requiring overnight hospitalization. Children receive a combination of medical, nursing, and therapy services during the day and return home each evening and weekend.
Location