Overview
Overview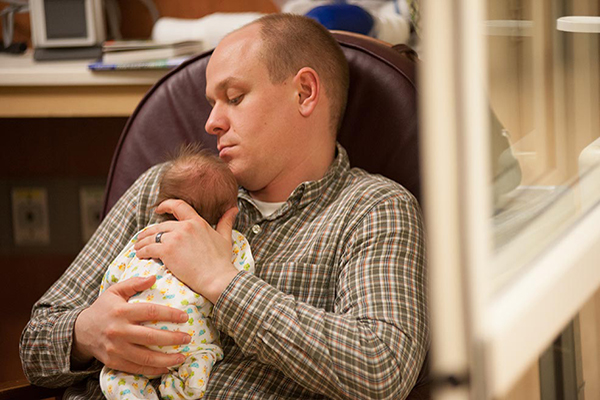 The Special Delivery Unit at Cleveland Clinic Children's offers women with serious health conditions and women who are carrying babies with known birth defects a compassionate, family-centered setting for labor and delivery. Our families receive world-class care from adult and pediatric specialists in our nationally-ranked Children's Hospital.
The Special Delivery Unit has labor and delivery suites, an operating room for Cesarean sections and other pregnancy-related procedures, an advanced newborn resuscitation and treatment room, and an adjoining Interventional Pediatric Cardiac Catheterization Lab. A pediatric surgical suite is located nearby.
Women or babies requiring emergency services for complicated pregnancies can be transferred to the Special Delivery Unit from any location across the country using Cleveland Clinic's Critical Care Transport Service.
Our Special Delivery Unit is designed to offer world-class care to both mothers and babies who require intervention during labor, delivery, and the postpartum/neonatal period. From the time you learn you may require our services during your pregnancy through your postpartum stay, the Special Delivery Unit team offers support and coordinated services tailored to your specific needs. As part of the Fetal Care Center we provide advanced diagnostic and treatment options such as PUBS, a full spectrum of subspecialty consults for mother and baby, and the availability of immediate newborn surgery. We are one of few units in the country designed to care for BOTH babies with special needs AND mothers requiring intensive care during and after delivery.
What We Treat
What We Treat
Our multidisciplinary team of maternal-fetal medicine, neonatology, geneticists and pediatric surgery specialists treat numerous maternal and fetal conditions. More information regarding these conditions can be found on our Fetal Care Center Website.
Benefits
Benefits
Cleveland Clinic is one of the top hospitals in the nation. The SDU's proximity to the specialty resources available here allows us to offer state-of-the –art care to both mother's and neonates with the most complex health conditions.
Pediatric Cardiac Catheterization Laboratory
Our Pediatric Cardiac Catheterization Laboratory offers immediate lifesaving intervention for newborns with heart defects such as hypoplastic left heart syndrome, transposition of the great vessels and pulmonary atresia.
Pediatric Surgical Suites
State-of-the-art minimally invasive Pediatric Surgical Suites allow emergency procedures to be performed shortly after birth.
Neonatology (NICU)
A Level III NICU offers sophisticated care and 24/7 coverage by in-house Board Certified neonatologists. Therapeutic hypothermia, nutritional support, continuous EEG monitoring and advanced modes of ventilation and ECMO are offered.
Neonatal Neuro-Intensive Care
A Neonatal Neuro-Intensive Care service is specially geared for newborns with intractable seizures, neurometabolic disease, neuromuscular disorders, hypoxic ischemic encephalopathy and other neurological/neurosurgical problems.
Our Team
Our Team
Special Delivery Unit
Bridget Bryner, RN, Assistant Nurse Manager, SDU
Jane Burke, MBA, BSN, RN, CPN, Clinical Nursing Director, Cleveland Clinic Children's
Maternal-Fetal Medicine
Neonatology
General Obstetrics
Appointments
Appointments
To see a Fetal Care Center specialist, call 216.444.9706 or 866.864.0430.
Our specialists strive to stay in close contact with your Ob/Gyn throughout your pregnancy and delivery in the SDU.