Overview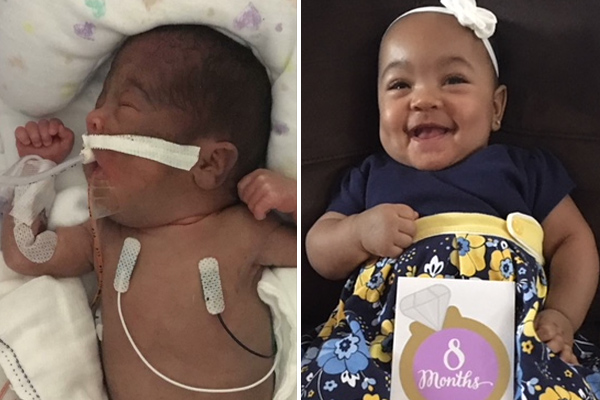 Babies who spend time in the neonatal intensive care unit (NICU) may need specialized follow-up care after discharge. Research has shown that neonatal developmental care can improve neurodevelopmental outcomes.
Neonatologists, developmental pediatricians and nurse practitioners with the NICU Follow-up Clinic at Cleveland Clinic Children's evaluate and support the developmental needs of premature infants or medically complex babies. Our goal is to identify developmental delays early and connect the family with the appropriate interventions to prevent long-term developmental problems.
Age and stage
Since some developmental challenges may not be visible until months or years later, we typically see babies at 4 months corrected age (age from original due date), 8 to 12 months corrected age, and 18 to 24 months corrected age. To calculate your baby's corrected age, begin with your baby's actual age in weeks (number of weeks since the date of birth) and then subtract the number of weeks your baby was preterm. Visits may start as early as 1 month after discharge and can go through age 3, depending on the child's needs.
Many of our infants come to us after graduating from the NICUs within the Cleveland Clinic Health System, located at our main campus and at Fairview and Hillcrest hospitals. However, babies may also be referred by pediatricians or subspecialists for feeding issues, tone concerns, and developmental delays. Parents may also schedule an evaluation for high-risk babies.
What to expect
Although the follow-up course is different for each individual baby, there are some formal developmental assessments that we conduct at specific times to give parents information about their child's cognition, language skills and motor development.
Between 8 and 12 months corrected age and again between 18 and 24 months corrected age, a pediatric occupational therapist or physical therapist will conduct the Bayley Scales of Infant Development, Version 3. This assessment helps to compare the child's development with normally developing children of their age. This can determine the need for further assessment or indicate specific therapeutic areas to focus on, such as physical, occupational and/or speech therapy. In addition, at 18 months corrected age, we use the Modified Checklist for Autism in Toddlers (M-CHAT) to identify children who may benefit from a more thorough evaluation.
Our Staff
Carmela Lemcke, CNP
Amy Toth, CNP
Andrea Karshuk, MSW, LISW
Cleveland Clinic Children's Therapy Staff
Terri Pujolas, OTR/L
Madalynn Wendland, PT
Julie Warfe, OTR/L
Fairview Hospital Therapy Staff
Jean Knis, Senior OTR/L
Rita Muzzillo, OTR/L
Contact Us
The NICU follow-up clinics are located below:
For more information or to make an appointment, please call 216.448.6179.