Overview
Overview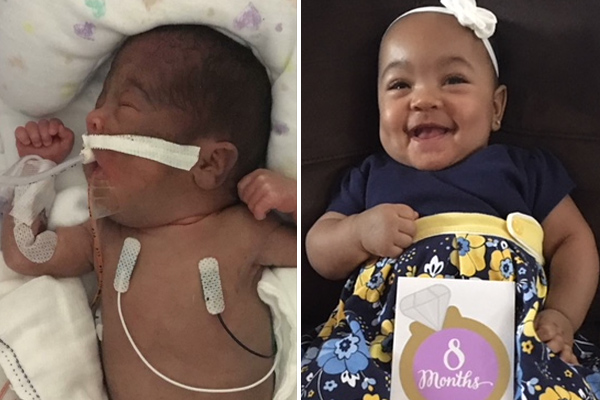 The neonatologists, nurse practitioners, and occupational therapists in our NICU Follow-up Clinic evaluate and support the development of premature infants and babies with medically complex conditions. Research has shown that providing this neonatal developmental care improves babies' long-term outcomes.
Our goal is to identify developmental delays early and to connect families with appropriate interventions to prevent long-term developmental problems.
We also see babies referred by pediatricians or subspecialists for feeding difficulties, muscle tone concerns or developmental delays. Parents may also schedule evaluations for high-risk babies.
When we see babies
Some developmental challenges are not visible immediately after birth, so we typically see babies at:
4 months corrected age*
8-12 months corrected age*
18-24 months corrected age*
Visits may begin as early as 2-4 weeks after discharge to make sure babies and parents are adjusting well and getting everything they need at home. They may also continue through age 3, depending on the child's needs.
* Corrected age is calculated by counting the number of months from the due date of delivery and not the actual date of birth."
What to Expect
What to Expect
Although each baby's needs are different, at each appointment we review the complete medical history of the child including NICU stay and post NICU events. Current medications, therapies and treatments are reviewed. A complete Physical Examination is also performed. We then discuss parent and provider concerns and jointly come up with a plan that is best for the parent and the child.
Even though each baby's development is different, we conduct formal developmental assessments at specific times to give parents information about an infant's cognition, language skills and motor development.
Between 8 and 12 months corrected age and again between 18 and 24 months corrected age, a pediatric occupational or physical therapist will assess your child using a standardized test, the Bayley Scales of Infant Development, Third Edition (BSID-III).
This assessment helps compare your child's development with normally developing children of the same corrected age (if born preterm); keeping in mind there is a wide range of normal development. The BSID-III can determine strengths or indicate specific therapeutic areas to focus on, such as can be accomplished in physical, occupational and/or speech therapy. It can also help determine if further assessment is needed.
At 18 months corrected age, we use the Modified Checklist for Autism in Toddlers-Revised (M-CHAT-R) to identify children who may benefit from a more thorough evaluation for autism.
We may also schedule earlier or additional visits if you, another provider or we have specific concerns.
At times, we can arrange on-site visits from social services, nutrition or therapy services, and/or consultation with other physicians who may assist with your child's care.
What BSID-III Testing Involves
What BSID-III Testing Involves
The BSID-III is a standardized test that examines cognition, language, motor, social-emotional, adaptive and behavioral skills in children ages 1-42 months. The examiner uses various toys as well as observation during BSID-III testing to look at these areas:
Cognition: The child's ability to recognize certain objects or toys, to play with toys and to engage in pretend play is assessed.
Language skills: The child's receptive (understanding) and expressive (talking) abilities are evaluated. Receptive abilities include responding to the sound of a person's voice, distinguishing between sounds, localizing sound, and understanding and responding appropriately to words and requests. Expressive abilities include talking, communicating wants or needs through words or gestures, naming pictures of objects and actions, answering questions, and using multiple word sentences.
Motor skills: The child's muscle coordination, balance, and fine and gross motor skills are assessed. Fine motor skills are the coordination of the small muscles, usually involving the hands and fingers. Gross motor skills are involved in the movement and coordination of the arms, legs and trunk.
Other areas: Based on a parent's or primary caregiver's responses to an optional questionnaire, we may evaluate the child's social-emotional and adaptive skills as well. The examiner and parent/caregiver may complete behavioral evaluation based on behavior during the test and at home.
Babies may benefit from early physical, occupational speech and or feeding therapy based on developmental test results.
Scoring: The testing looks at how a child performs compared to other children of the same corrected (not chronological age if preterm). Scores, percentile ranks and age equivalents are determined.
Sharing results: We discuss each child's strengths in detail with family members and offer recommendations aimed at reinforcing and/or improving development. Further testing and/or therapy may be prescribed.
Test results (but not the child's name) may be shared with NICU staff to help us study how to improve the quality of care. No information with patient identifiers is used for research purposes without a signed informed consent form from the parent or guardian.
Other NICU Follow-Up Services
Other NICU Follow-Up Services
In addition to assessing children's neurodevelopmental skills, experts in our clinic can also provide:
Care coordination with pediatricians and subspecialists
Detailed growth and nutritional recommendations
Equipment management such as monitors and oxygen
Help with appointments
General Movement Assessment (GMA)

Babies have usual, noticeable and spontaneous "general movements" from before they are born until they are 20 weeks post term. If the "general movements" are not present or they are abnormal, the infant is at higher risk of neurological problems, in particular cerebral palsy. This assessment may give information on how your baby's neurological system is developing if there were medical concerns at birth such as prematurity, critical illness, or stroke.
Specially trained Therapy staff at Cleveland Clinic Children's may perform this assessment.
Referrals for:
Early Intervention
Occupational, Physical and Speech Therapy
Orthotics
Developmental Pediatrics
Aquatic Therapy
Power Mobility
Augmentative Communication
Feeding Team and Nutrition Services
Subspecialists such as Neurology, Pulmonology, Cardiology, etc….
Community service agencies and Social Services
Financial assistance
We will coordinate your child's care with you, your family pediatrician and with our specialists.
Fees
Most insurance providers reimburse visits to the NICU Follow-Up Clinic. Please check with your provider regarding coverage before your visit. Your health maintenance organization or insurance company may require pre-authorization. The referral must state the name of the physician your baby will be seeing.
Appointments
Appointments
To schedule an appointment in our NICU Follow-Up clinic, please call 216-401-7575.
Locations
Fairview Hospital
Medical Office Building, Suite 233-B
18099 Lorain Ave.
Cleveland, OH 44111
Hillcrest Hospital
Medical Office Building II, 2nd floor (across the street from the Main Hospital)
6801 Mayfield Road
Mayfield Heights, OH 44124