Overview
Overview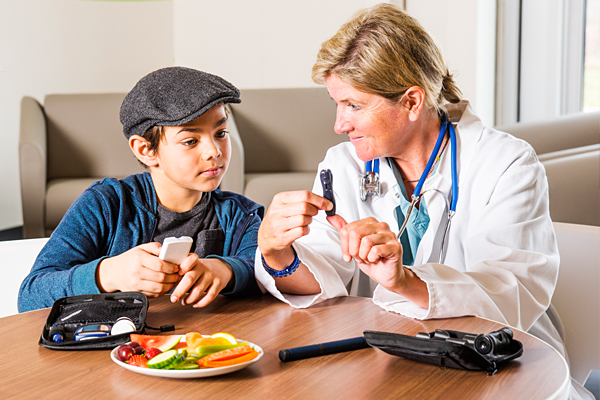 We offer expertise in all areas of Pediatric Endocrinology at Cleveland Clinic Children's from juvenile diabetes, growth and puberty disorders to sex differentiation. We place special emphasis on understanding how the patient and the family are affected by endocrine disorders.
Cleveland Clinic Children's Diabetes & Endocrinology program was nationally ranked in U.S. News & World Report's 2016-2017 edition of "Best Children's Hospitals."
Our endocrinology team has a wide range of clinical experience and expertise in providing comprehensive diagnosis, treatment and management of complex hormonal problems.
Consultation and evaluation are available on an in- or outpatient basis in the Cleveland area.
We see child and adolescent patients on Cleveland Clinic's main campus in the Crile Building on the 12th floor (A120) and at specialty clinics in community hospitals and family health centers.
Multidisciplinary approach to care
Along with our pediatric endocrinology department physicians, our multidisciplinary team consists of:
Nurses
Certified diabetes educators
Registered dieticians
Social workers
Nurse practitioners
We work closely with specialists in behavioral medicine and child life to assist our young patients in adjusting to their disease. In addition, we focus on helping adolescents adjust from pediatric to adult disease management.
Research-based treatments
Our endocrine staff has played leadership roles in clinical research and drug trials.
Current clinical research programs focus on growth disorders and diabetes.
Specialized treatment for juvenile diabetes
Our pediatric team provides specialized services for diagnosis, care, education and research related to type 1 and type 2 diabetes mellitus.
Psychological support and counseling is an important part of the diabetes program.
The staff provides continuing care for juvenile diabetes in children and adolescents, with the goal of minimizing hospitalization and preventing diabetic complications.
What We Treat
What We Treat
We treat a wide range of pediatric endocrine disorders including:
Bone and mineral metabolism
Growth disorders
Menstrual disorders
Pituitary disorders
Puberty disorders
Severe acne
Sex differentiation
Testicular disorders
We specialize in genetic disorders that are associated with endocrine and hormonal problems, such as:
Klinefelter syndrome
McCune-Albright syndrome
Noonan syndrome
Prader-Willi
Pseudohypoparathyroidism
Trisomy 21
Programs
Programs
TEAM T1D Clinic (Teen Girls)
The TEAM T1D program is a shared medical appointment for girls age 15-18 years with type 1 diabetes. The team includes physicians, nurse practitioners, pediatric endocrinology nurses and certified diabetes educators, and a dietician. The goal of the program is to meet other girls in your same shoes and talk everything diabetes. Topics covered include: carb counting, transitioning to adulthood, complications, and coping and support.
A1C Clinic
A1C Clinic is a clinic to help children and adolescents with diabetes improve their health and well being by achieving better diabetes control. The team includes physicians and nurse practitioners, psychologists, dieticians, and social workers. The clinic is for any aged child or adolescent with any type of diabetes. The goal of the program is to partner with the child and caregivers to help achieve more stable blood sugars, increase independence, overcome challenges, and learn new skills.
Pediatric Lipid Clinic
This is a specialty clinic for children with lipid and cholesterol disorders, especially those with severe genetic lipid disorders. This clinic is held in the preventive cardiology department. The team includes physicians and dieticians. Medications and diet interventions are used to treat lipid conditions. The clinic is open to any child with a lipid disorder.
To make an appointment call: 216.444.9353
Staff
Appointments
Resources
Resources
Cleveland Clinic physicians proudly offer their services to Camp Ho Mita Koda, a residential camp for children with diabetes. Since 1929, Camp Ho Mita Koda has taught children about their condition. They design programs that encourage fun and friendships. One of the nation's longest-running camps for children with diabetes, Camp Ho Mita Koda offers a wide-range of year-round programs.
Camp Ho Mita Koda is a program of the Diabetes Partnership of Cleveland and accredited by the American Camp Association.