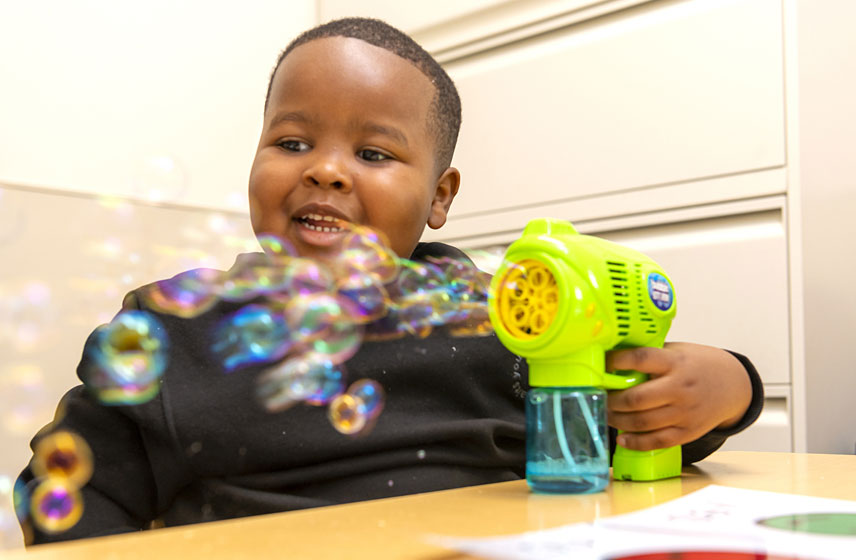 Give to Cleveland Clinic Children's
---
Join us to create a healthier future for children and the families who love them. When you donate to our children's hospital, 100% of every dollar funds pioneering research, medical breakthroughs and vital support programs that can change the lives of our youngest patients.
Why Support Cleveland Clinic Children's?
More children, more lives saved:
We treat more than 750,000 children each year. That's more than any other children's hospital in Northeast Ohio. Because of donors like you, more children will grow, thrive and see a brighter tomorrow.
World-class pediatric care:
Cleveland Clinic Children's was ranked as a national leader in pediatric care by U.S. News & World Report's edition of "Best Children's Hospitals." Internationally recognized researchers and physicians come here from all over the world to help us solve the toughest challenges in children's healthcare.
Personalized ways to give:
Donate in a way that's meaningful for you. We offer many ways to give to a cause close to your heart, from planned giving to community fundraising. Donate now and have an immediate impact on the program or initiative of your choice.
Tradition of excellence:
Our children's hospital is fully integrated into the Cleveland Clinic enterprise, which has been providing world-class care for more than 100 years. Young patients and their families can access our vast resources, including specialty expertise, innovative technology and leading-edge treatments.
Help Us Build a Healthier Future for Kids Everywhere
From focusing on underserved communities to fueling childhood cancer research, we're committed to identifying and prioritizing the areas of greatest need. We put your gift to work where it will have the most impact — today, tomorrow and for generations to come.
Your support for Cleveland Clinic Children's enables:
More research and discovery for pediatric illnesses such as childhood cancer.
Expanded holistic care and support programs for the entire family.
Innovative surgeries and therapies for the sickest children who may be out of treatment options.
Recruitment and training for the pediatric healthcare leaders of tomorrow.
Access to quality healthcare, which leads to healthier communities.
Get Involved
We are dedicated to revolutionizing healthcare for our littlest patients and creating brighter tomorrows for these children filled with promise. But we cannot do this alone. As a nonprofit organization, Cleveland Clinic Children's relies on philanthropy as a crucial link between current success and future medical breakthroughs. Gifts of all sizes impact pediatric care programs, research and innovations.
Getting involved has never been so easy - choose from one or more ways to give back.