Overview
Overview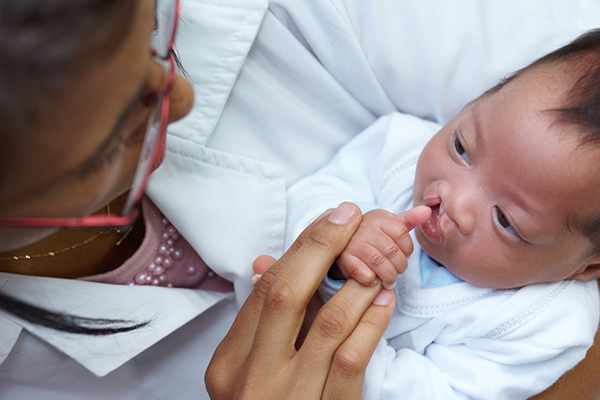 Our Pediatric Plastic Surgery department provides a multidisciplinary approach to the consultation and management of reconstructive problems from birth to age two and in children and adolescents, with an emphasis on correcting congenital abnormalities. We see patients on Cleveland Clinic's main campus at the Crile Building (Desk A60), as well as at our family health centers.
Pediatric plastic surgery encompasses diseases that are unique to children or require special expertise. At Cleveland Clinic Children's, children requiring reconstructive surgery options are cared for by a team of specialists that may include:
Audiologist
Craniofacial plastic surgeon
Dentist
Genetic counselor
Neurosurgeon
Oculoplastic surgeon
Oral surgeon
Otolaryngologist
Pediatrician
Psychologist
Speech therapist
What We Treat
What We Treat
Our Pediatric Plastic surgeons provide pre- and postoperative management of infants, children, and adolescents with a range of problems, such as:
Congenital ear abnormalities
Craniofacial abnormalities
Extremity reconstruction
Surgical management of traumatic injuries
Trunk reconstruction
Programs
Programs
Cleft Lip and Palate Program
One out of 800 babies is born with an incomplete fusion of either the lips or roof of the mouth. An incomplete fusion of the lip is called cleft lip, and an incomplete fusion of the roof of the mouth is called a cleft palate. If left untreated, a cleft lip or cleft palate can interfere with normal growth and function of the mid-face and mouth. However, both can be repaired successfully.
Cleveland Clinic Children's provides interdisciplinary assessment and pre- and postoperative management for infants, children and adolescents with cleft lip or palate or other congenital craniofacial anomalies. Care is provided by a multidisciplinary team of specialists.
Learn more about Cleft Lip & Palate Surgery.
Craniofacial-Orbital Program
Some children are born with complex abnormalities that affect the appearance and growth of the face and skull. These congenital problems may also involve the brain, heart, lungs, liver or gastrointestinal tract, and they may affect the appearance and function of the hands and feet. Through interdisciplinary assessment, a team of experts provides pre- and postoperative management of infants, children, adolescents and adults with cranial and orbital deformities.
If the bone sutures in the face or skull are fused rather than open, the face and skull cannot grow normally. This condition is called craniosynostosis, which can result in an abnormal appearance of the face and/or skull. Rarely, children may experience brain dysfunction and abnormal development due to increased intracranial pressure, or pressure within the skull.
How are congenital craniofacial facial problems corrected?
Surgery to correct these facial and skull abnormalities involves releasing bones and moving them to a position that will allow more normal growth. Some of the more complex craniofacial problems, like left coronal craniosynostosis, may require several surgeries during infancy, childhood and adolescence of the patient. Cleveland Clinic plastic surgeons use biomodeling techniques to help plan complex reconstructive surgery for children with congenital craniofacial deformities and skull base tumors.
Learn more about Craniosynostosis.
Vascular Malformations Program
Diagnosis of vascular anomalies can be extremely difficult. Our multidisciplinary team effort is key, not only to making an accurate diagnosis of vascular anomalies, but also to improving treatment alternatives. Through our Vascular Anomalies Program, we are aiming to become a leading subspecialty center for patients faced with vascular anomalies.
Staff
Appointments
Appointments
To learn more about reconstructive surgery treatment options for pediatric conditions at Cleveland Clinic, please call 216.444.4646 or 800.223.2273 ext. 44646.