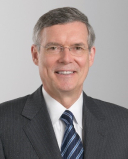 Robert (Bob) Wyllie is the Chief of Cleveland Clinic's Children's Institute. In this role, Dr. Wyllie leads the institute and oversees its daily operations.
Past responsibilities include Chief Medical Operations Officer, the call center, surgical operations and Epic to continuous improvement, care management and service line cost management.
Previously, Dr. Wyllie was the Chair of the Pediatric Institute and Physician in Chief of Cleveland Clinic Children's Hospital from 2006 to 2011. He has also served as President of Cleveland Clinic Staff, Vice Chair of the Office of Professional Staff Affairs, member of the Board of Governors and interim Chair of two other institutes including Digestive Disease and Surgery Institute and Pathology and Laboratory Medicine Institute.
Dr. Wyllie graduated from Indiana University Medical School with honors. He completed his pediatric residency and pediatric gastroenterology fellowship at James Whitcomb Riley Memorial Hospital for Children at Indiana University. Dr. Wyllie serves as a professor at Cleveland Clinic Lerner College of Medicine, where he's been teaching students since 2009. He also completed Harvard Business School's Leading in Health Care program in 2010.
Dr. Wyllie is a member of both the Healthcare Leadership Council Washington DC Board of Directors and American Hospital Association Board of Directors Post-Acute Hospital, as well as the Ohio Hospital Association Physician Advisory Council. He's published over 200 manuscripts and is the founding editor of the textbook Pediatric Gastrointestinal Disease now in its sixth Edition.