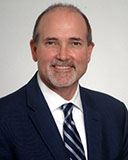 David Cato is the Chief of Operations for the Cleveland Clinic Florida Region. In this role, he is responsible for the strategic direction, planning and delivery of quality and economical healthcare services at Cleveland Clinic Florida. He works collaboratively with the health system team to achieve financial, operational, quality and safety goals. David also leads initiatives aimed at innovation and teamwork.
Previously, David was the Chief Officer Outpatient and Hospital Operations and Post-Acute Care at Lee Health in Fort Myers, Florida.
David graduated from the University of Florida with an undergraduate degree in physical therapy and a master's degree in business administration.
An active community volunteer, David has enjoyed coaching youth football, basketball and baseball teams for 25 years. He serves on the state of Florida's Special Olympics Board of Directors and is the Clinical Director for the Special Olympics "FUNfitness," which provides physical therapy screenings for participating athletes.